With 56 SKUs, Spar boasts one of the most substantial own-brand wine ranges available from a symbol group. From the entry-level Taste range to the recently expanded 29-strong Regional Selection range, the retailer has all bases covered for a convenience shopper. To give you more insight into the category strategy, we've broken it down by range and enlisted an expert to give you their thoughts. This time, analysis is from HIM senior insights manager Blonnie Walsh.
This showcase is part of a new series of articles examining key trends and developments in own-label and has been introduced to support The Grocer Own-Label Accreditation Scheme. Under this new scheme, all the products we review can apply for accreditation at any time, through a programme of continuous consumer testing and approval developed to help retailers and suppliers promote the best own-label products. You can find out more about The Grocer Own-Label Accreditation Scheme here.

You might be interested in our other own-label showcases – we've analysed M&S's vegan range Plant Kitchen, Amazon's private-label brands, Waitrose Cooks' Ingredients range and Aldi's disruptive Lacura beauty range.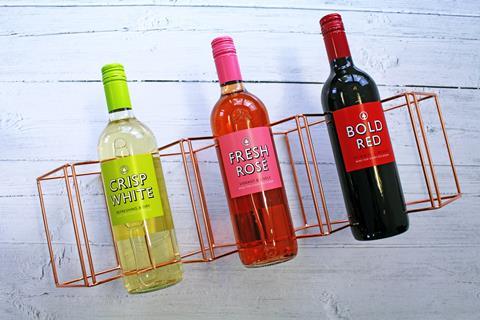 Spar Taste range
Rsp: £5
Varieties pictured: Crisp White, Bold Red and Fresh Rose
Spar says: "This is an entry-level range that is all about flavour – you know what you like and Spar delivers. Colourful, fun, nostalgic labelling with great shelf standout, these are the wines for customers who like to keep things straightforward. Simplicity is key without compromising on the quality (label and liquid). Mid-week winners for casual dinners."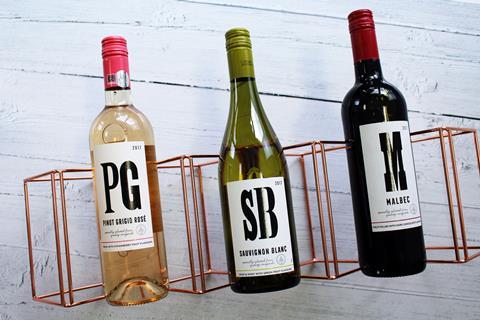 Spar Alphabet range
Rsp: £5-£6
Varieties pictured: Pinot Grigio Rose, Sauvignon Blanc and Malbec
Spar says: "Grape variety is really important to customers, so Spar has chosen to highlight the nation's favourite varieties offering great value for money and medal award-winning quality: a range that's instantly recognisable from the bold letter press-style label. We've also introduced some less well-known grapes for customers who love to explore. The Alphabet range is for the modern consumer who enjoys sharing their favourite variety at kitchen dinners with friends."
Spar Exclusive and Regional Selection ranges
Pictured below, separated by colour
Spar says: "Regional Selection is the Spar range which the enthusiasts will recognise and trust, the range for dinner party drinking and confident gifting. The RS roundel on every label names the country or region, reinforcing the importance of provenance.
"The Exclusives are a range of on-trend styles with broad customer appeal, offering giftable wines at value-for-money prices. Retailers now have a choice of promotable wines to compete with hard brands and supermarket tertiary labels, and customer will love the packaging, prices and friendly flavours."
White Spar Exclusive and Regional Selection wines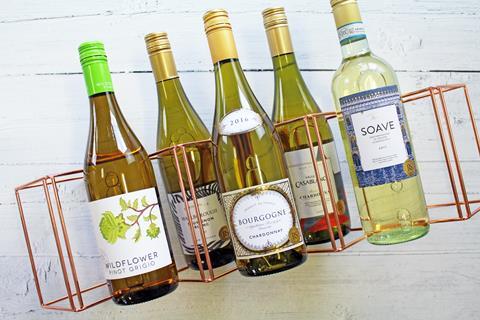 Rsp: £5.50-£6.50
Varieties pictured: Wildflower Pinot Grigio (Exclusive range), Fern Hills Sauvignon Blanc (Regional Selection range), Bourgogne Chardonnay (Regional Selection range), Chilean Reserva Chardonnay (Regional Selection range) and Italian Soave (Regional Selection range)
Red Spar Exclusive and Regional Selection wines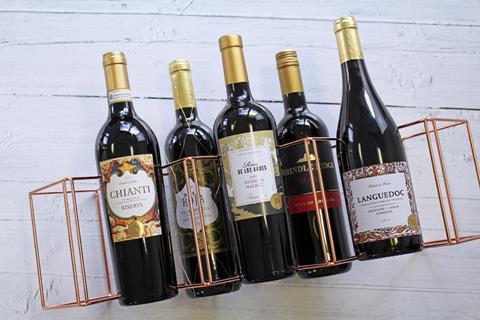 Rsp: £5.50-£6.50
Varieties pictured: Chianti Riserva (Regional Selection range), Rosa Rioja Valdepenas (Regional Selection range), Rios de los Andes Reserve Malbec (Regional Selection range), Brindle Ridge Merlot (Exclusive range) and Languedoc (Regional Selection range)
Spar Sparkling range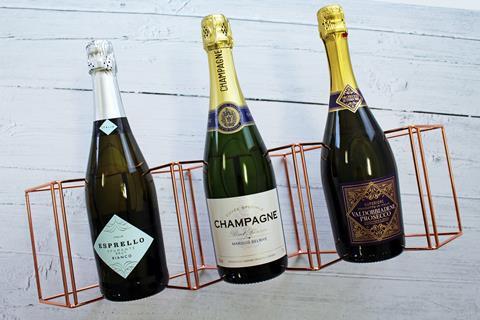 Rsp: £8-£18
Varieties pictured: Esprello Bianco Spumante, Marquis Belrive Champagne and Valdobbiadene Prosecco DOGC
Spar says: "The sparkling wine range is structured to suit different customer shopper missions, price points and styles so both the regular and occasional shopper will find the wine that best suits their needs.
"Style is catered for, from the drier flavour profiles of champagne and cava to fruitier Italian sparkling and prosecco; quality is tiered upwards to Valdobbiadene prosecco and champagne; and price points are covered off from edlp Spar brand to promotable exclusives."
Expert verdict on Spar wines
This time, our expert commentator is Blonnie Walsh, senior insights manager, HIM research and consulting.
"The basic tier Taste range is simple and accessible. By removing excess detail from the front of the bottle, Spar avoids overloading convenience shoppers with too much information.
"The Alphabet range has a clear and consistent design. By offering shoppers a clear sign that all 12 products sit within one range, Spar is encouraging shoppers to experiment with new varietals within that selection.
"The simple design works particularly well in a small convenience store with single facings, because it displays the maximum number of products without looking cluttered or busy. However, leading with grape variety as the key information isn't a particularly new strategy – I Heart Wines does the same thing and it can be restrictive. For example, Rioja has far higher preference and recognition than Grenache. This range also seems to lack more on-trend styles such as Albarino, Gavi or Pinot Blanc.
"Introducing a premium own-label range means Spar could enjoy some of the success we've seen with other top tier retailer wine ranges like Sainsbury's Taste the Difference and Tesco Finest.
"The Regional Selection from Spar feels similar to Aldi's strategy, because they both offer old-world favourites for less than £10. They also both boast oenophilic tasting notes.
"Overall, this is a strong offer which will do well to tempt shoppers away from branded offers. Performing particularly strongly is the display and PoS for this range – using wooden crates and tasting notes is eye-catching, looks great and communicates authenticity. Finally, using credible awards throughout the labelling is a strong point of difference for this range and it's a tactic that has worked well for the Co-op."

Ellis looks after the day-to-day running of thegrocer.co.uk and The Grocer's social media channels, alongside creating and co-ordinating digital content.
Ellis joined The Grocer and moved south in 2015 after working as a local news reporter in her home town of Glasgow. Ellis doesn't work on a particular patch, and you'll find her writing about a vast range of topics across the universe of food and drink, but she specialises in own-label, culinary trends and internet food culture.
Follow Ellis on Twitter: @ellishawthorne