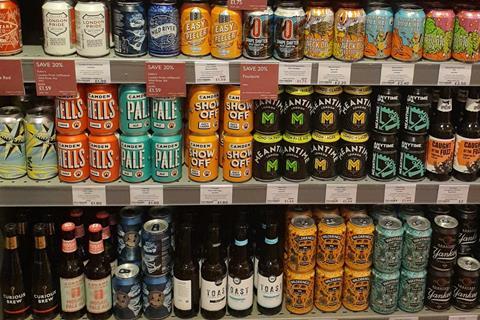 Waitrose has significantly upped its craft beer game, drafting in a fresh host of exclusive and more experimental brews.
The retailer has added more than 70 new beer and cider SKUs, with debut appearances for the likes of Tiny Rebel, Dark Star and Northern Monk.
Other entrants include Black Sheep Brewery's Pineapple Milkshake IPA, Devil's Backbone IPA, Hobgoblin IPA and a Belgian tripel beer from Cornish brewer Sharp's 'Adventure Series'. A number of beers, ­including Wiper & True's Milk Shake and Wild Beer Co's Fresh and Millionaire brews, are exclusive to Waitrose.
Meanwhile big names BrewDog and Beavertown increased their ranges, with new listings for BrewDog's Clockwork Tangerine session IPA and Beavertown's Bloody 'Ell blood orange IPA, which recently joined the brewer's core range.
The update also includes a range of beers Waitrose is signposting as 'Limited Edition' on shelf, which are not yet listed on its website, including Fuller's Black IPA, part of the London brewer's small-batch 'Pilot Series' range, and two beers from Lost & Grounded.
New low and no-alcohol beers have joined its roster too, including Brooklyn's recently-released 0.4% abv Special Effects lager, and Adnams alcohol-free version of its Ghost Ship ale.
Muddy Wellies Ale, a beer created by students at the Royal Agricultural University in Gloucestershire, brewed in collaboration with The Friday Beer Company, won a space on shelf. Ten pence from every sale will be returned to the university to help launch students' business ideas.
In the cider category, Waitrose added new SKUs from Sheppy's, Thatchers, Aspall and Cornish Orchards.
Waitrose was not available to comment.