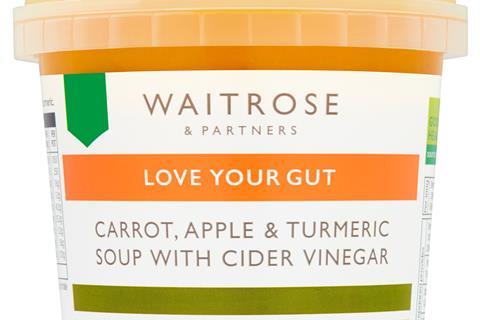 Waitrose has introduced a new range aimed at customers looking to improve their overall gut health.
The 'Love your Gut' range has launched with two SKUs, with two more set to arrive in stores and online in March.
Developed by nutritionists, the range launches with two soups: carrot, apple & turmeric soup with cider vinegar and a multigrain soup made from chickpeas, millet, pearl barley & lentils in a tomato sauce.
Two kefir drinks – mango & passionfruit and strawberry with elderflower – will be also be part of the range from March. Both drinks will carry the 'Good Health' logo.
"A quarter of the nation admit they want to improve their diet to enhance their overall gut health," the supermarket said. "Waitrose has introduced a 'Love your Gut' range to support customers with this choice.
"Gut health is increasingly popping up on shoppers' personal health agenda and shoppers are faced with a range of probiotics and advice on how to nourish their gut.
"In addition to the current range of products that are known for being good for gut health, a selection of new products with clear gut health benefits to help shoppers make smart and informed choices are being launched."
The Love your Gut range:
Waitrose carrot, apple & turmeric soup (£2/400g)
Waitrose multigrain high fibre soup (£2/400g)
Launching in March:
Waitrose kefir strawberry with a hint of elderflower cultured milk drink (£1.50/300ml)
Waitrose kefir mango & passionfruit cultured milk drink (£1.50/300ml)