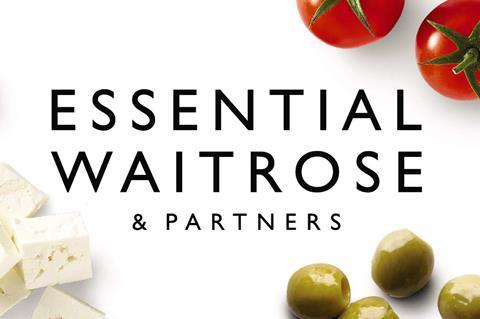 Waitrose has relaunched its own-label Essential range with more than 200 new and refreshed lines, as well as new packaging.
All products in the range, which first launched in 2009 and spans categories from skincare to yoghurts and frozen ingredients, have also been reviewed to meet the retailer's strategy of making all own-brand packaging widely recyclable, reusable or home compostable by 2023.
The supermarket has committed to reducing Essential Waitrose packaging by 15%, with a total saving of almost 2,000 tonnes a year.
The new range – which has been in the works for almost a year – had been developed to make it easier than ever to eat a healthy diet, Waitrose said.
A majority of the range includes products supporting a healthy, balanced diet, with at least a third of the products signposted with a 'Good Health' logo, which guarantees a clear nutritional benefit in providing vitamins, minerals and healthier fats.
Essential Waitrose brand manager Kate Gibbs said that in addition to health, the range aimed "to deliver the highest welfare, quality and value", with an additional focus on sustainability.
"For Essential Waitrose, we set ourselves the target of reducing packaging, including single-use plastic by 15%, which we are on track to do by September 2020. We are really proud of this as it helps us move even closer to eliminating unnecessary plastic and making all own-brand packaging widely recycled, reusable or home-compostable by 2023."
Waitrose brand manager Beth Elliot said relaunching the own-label brand in the middle of the coronavirus pandemic had proved challenging.
"We have been working on the relaunch for over a year, but this was something we could never plan for.
"Due to the increased demand in key products such as pasta and tinned tomatoes, we ended up sending new packaging out around a month before the official launch. We relaxed a lot of our normal launch timings to support our suppliers and to be more efficient with packaging runs in our factories.
"It's one of those times where common sense must rule and where we just get the food out regardless of timings and plans. At the end of the day, our job is to feed people and with our essential range we are confident our customers are getting quality and value with every product."
Waitrose analysed customer buying patterns to identify what shoppers considered "essential" lines as part of the refresh.
Elliot said the retailer had also reviewed prices to remain "competitive across the board" while ensuring the best quality products were being offered - with the highest sourcing standards.
"In the current climate, we are also running offers on key essential lines to ensure our customers don't have to compromise on quality or price whilst also supporting our farmers," the brand manager added.
Added Gibbs: "Our Essential Waitrose range has been created by experts to exhibit the standout quality and value that Essential Waitrose products have come to offer.
"Supporting our farmers and suppliers also remains a key priority and with the new design we hope our customers will be even more drawn to the range and the new products within it."
Packaging changes to the refreshed range include:
Essential olives have moved from glass jars to steel cans, saving 92 tonnes of glass packaging a year
The removal of zip seals from all essential dried fruit bags has saved two tonnes of plastic a year
The essential chilled breads packaging has changed material to save just short of 1.5 tonnes annually
Removing the plastic dust guard from the opening of essential tissue boxes has saved almost three tonnes of plastic a year
For the whole of the essential frozen fruit range, all bags have moved to improved and fully recyclable packaging, saving almost a tonne every year."