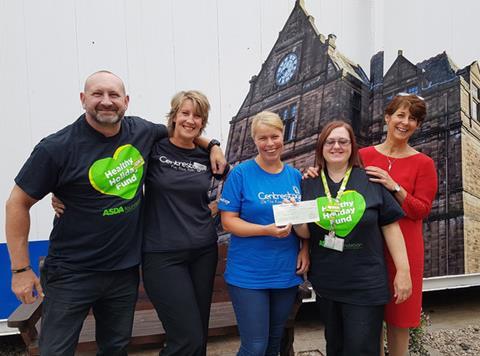 The Asda Foundation is looking to tackle summer holiday hunger via the first wave of charitable grants from its new Healthy Holiday Fund.

There is a total of £200,000 available to good causes across the UK with individual grants available up to £1,000 to enable local charities to run more activities for children over the holidays.

Research published on Friday from the Trussell Trust shows the number of food bank referrals for children rises steeply in the school holidays, as they lose access to free school meals and some families struggle to manage costs.

Some of the first to receive funding include Centrestage in Kilmarnock - which received £1,000 to fund a bus to tour the town and host activities for children throughout the holiday, while also providing them with a meal - and Urban Outreach in Bolton, which packs thousands of free lunches to distribute over the summer to children usually in receipt of free school meals.

The initiative comes following the launch of Asda's Fight Hunger Create Change partnership with FareShare and the Trussell Trust. Asda's investment of at least £20m will develop FareShare and the Trussell Trust's infrastructure, particularly in the transport and storage of fresh food, and in developing food banks' provision of additional support, such as budget cookery courses.
"We're delighted to be able to support a number of brilliant local charities across the country this summer," said Asda Foundation manager Emily Harrison.

"We know that families can find it difficult to entertain children over the holidays and sometimes find the increased cost of catering for their children a challenge, so we hope that our Healthy Holiday Fund, by enabling local charities to hold more children's events, can ease some of this pressure."

The Trussell Trust director of operations Samantha Stapley added: "Every summer we see an increase in the number of emergency food supplies going to children from food banks in our network. If we want to change this and move towards a future where no one needs a food bank, we need to address the underlying structural issues that leave people facing hunger. That's why we're pleased the Fight Hunger Create Change partnership will give support for food banks helping people on the ground right now, whilst at the same time supporting us to undertake the biggest research project yet into UK hunger, so we can find solutions that would see no one needing a food bank in the first place."

The Healthy Holiday Fund is now closed for applications for this summer however further grants will be made for October half term. Applications can be made by charities and good causes through dedicated community champions at Asda superstores.