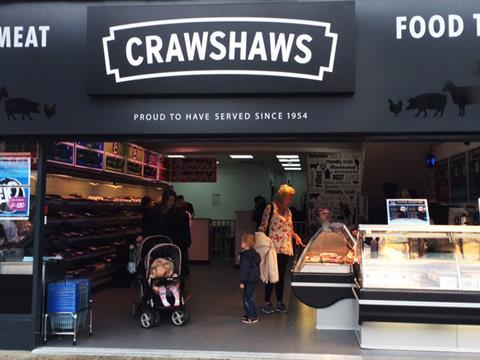 Administrators for stricken high street butcher chain Crawshaws have already closed 35 out of its 54 stores as part of a plan to sell the remainder of the business on.
Ernst & Young said 354 staff were made immediately redundant after it was appointed on Friday, with the majority of job losses coming from "mainly high street locations that were no longer viable".
It planned to continue trading "as normal" at 19 profitable stores and at Crawshaws' Hellaby processing and distribution centre, in the hope it could conclude a sale "to preserve the remaining 261 jobs", said joint administrators Hunter Kelly and Charles King.
Shares in the AIM-listed chain were suspended on 31 October after Crawshaws announced it had not been able to raise the funding needed to restructure the business and had decided to appoint administrators. It had been under increasing pressure from supermarket and dicounter competition in recent years.
Former Asda meat executive Jim Viggars was appointed as Crawshaws CEO in May. However, he was unable to turn the fortunes of the business around, with the company issuing profit warning in August as like-for-like sales fell 1.32% during the first 20 weeks of its financial year.
"Crawshaw has not been immune to the well documented issues on the high street, which has resulted in a number of stores becoming loss making," the administrators said.
"Despite the new management team's best efforts, it was not possible to raise additional investment to restructure the business by reducing the number of high street stores and expanding its successful factory shop format and instore SPAR butchery offering."
As a result, the group would have run out of cash, they added, primarily due to the losses from its high street stores. However, Crawshaw's out of town factory store format had proved to be successful "and we are hopeful that a purchaser can be found who can take forward management's plan for these profitable stores", they said.