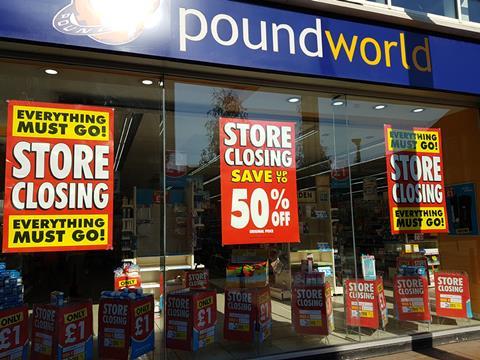 A further 80 Poundworld stores are to close with the loss of 1,024 jobs, administrators for the high street chain have announced.

The 80 are in addition to the 25 already facing closure following a similar announcement earlier this week.

It brings the number of jobs to be axed since the retailer entered administration on 11 June to 1,364, including 98 head office staff on 18 June.

In a similar statement to the one announcing the closure of 25 stores on Tuesday (10 July), administrators Deloitte said discussions were ongoing with parties interested in buying the remaining business, reduced to 230 branches.
The closure of the 80 stores will be phased from Friday 20 July to Sunday 22 July.

"Whilst we remain hopeful that a sale for part, or parts, of the business can still happen, it has not been possible to sell the business as a whole," said joint administrator Clare Boardman.

"We would like to thank all the employees for their continued support and commitment during this difficult time. We are keeping staff appraised of developments as they happen."

Poundworld's founder Chris Edwards, who sold the variety discounter to current owner TPG Capital in 2015, pulled out of the running last week, saying his best offer had been rejected by Deloitte. He had been looking to buy 186 stores, saving around 3,000 jobs.

Deloitte listed the 80 stores as follows:
| Location | Redundancies |
| --- | --- |
| Aberdeen | 14 |
| Banbury | 16 |
| Banbury | 13 |
| Bexley Heath | 17 |
| Birkenhead | 8 |
| Blackburn | 13 |
| Bloxwich | 13 |
| Blyth Bb | 9 |
| Bolton | 7 |
| Bolton Breightmet Rp | 15 |
| Bootle | 11 |
| Bradford | 23 |
| Bradford | 24 |
| Bristol | 12 |
| Bristol | 14 |
| Bude | 6 |
| Burton Upon Trent | 10 |
| Canterbury | 15 |
| Cardiff | 14 |
| Chelmsford | 16 |
| Chester | 14 |
| Corby | 13 |
| Coventry | 20 |
| Coventry | 14 |
| Cramlington | 15 |
| Dagenham | 8 |
| Darlington | 13 |
| Dewsbury | 7 |
| Fleet | 8 |
| Fulham | 13 |
| Gateshead | 14 |
| Glasgow | 12 |
| Gloucester | 15 |
| Greenock | 12 |
| Grimsby | 10 |
| Harlow | 14 |
| Harrogate | 17 |
| Havant | 9 |
| Hinckley | 10 |
| Huddersfield | 11 |
| Huddersfield | 6 |
| Inverness | 12 |
| Jarrow | 10 |
| Kings Lynn | 26 |
| Kirkby | 6 |
| Leeds Crown Point | 11 |
| Leeds Kirkgate | 13 |
| Leeds Kirkstall Rd | 12 |
| Leicester | 11 |
| Leicester (Bb) | 7 |
| Liverpool | 15 |
| Livingston | 16 |
| Llanelli | 13 |
| Llantrissant | 11 |
| London Archway | 17 |
| Manchester | 11 |
| Merry Hill | 15 |
| Merthyr Tydfil | 13 |
| Middlesbrough | 12 |
| Northampton | 13 |
| Norwich | 10 |
| Nottingham | 16 |
| Portsmouth | 18 |
| Rotherham Duk | 15 |
| Seacroft (Leeds) | 10 |
| Selby | 7 |
| Sheffield | 12 |
| Shepherds Bush | 19 |
| Shrewsbury | 18 |
| Shrewsbury | 10 |
| Slough | 12 |
| South Shields | 12 |
| Southport | 7 |
| St Albans | 16 |
| Stocksbridge | 10 |
| Sunderland | 17 |
| Sutton | 10 |
| Swinton | 7 |
| Watford | 12 |
| Wood Green | 17 |