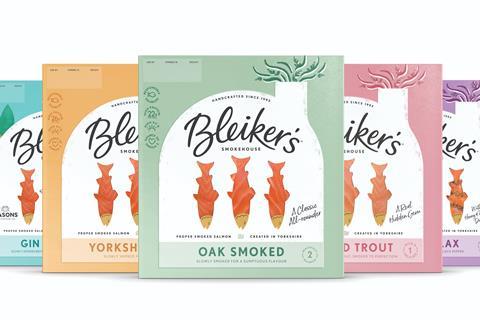 Collapsed fish supplier Bleiker's Smokehouse, which was placed into administration by its owners on 29 April, is under investigation for food fraud concerns, The Grocer can reveal.
The North Yorkshire-based smokehouse was previously a supplier of fish products to major UK supermarkets and had 86 members of staff, but it is now under investigation by the FSA's National Food Crime Unit (NFCU).
"Our investigation into Bleiker's Smokehouse Ltd is related to a number of alleged issues including concerns about their country of origin claims on some of their smoked salmon products," said Gavan Wafer, head of investigation at the NFCU. "The NFCU has acted on intelligence it received and which has resulted in one arrest being made.
"It is vitally important that we ensure food is safe and what it says it is, and that consumers and food businesses are confident in the authenticity of food they are buying," he added. "We would like to take the opportunity to thank North Yorkshire Police for assisting in the investigation and supporting this operation."
Martyn Pullin and Phil Pearce of business advisory firm FRP were appointed as joint administrators to the business on Friday 29 April, when remaining employees were made redundant and the business ceased trading.
The business had lost a significant contract earlier this year – reported to be with Aldi – which led to a consultation with its employees and the business and assets being marketed for sale, FRP said. However, a buyer could not be found, and on 28 April, some 38 members of staff were made redundant before the company entered administration the following day.
"Bleiker's was a family operation with a track record of supporting both major and independent retailers," said Martyn Pullin, partner at FRP and joint administrator. "The loss of a significant contract left the business in a difficult financial position. Regrettably, the insolvency has meant that the business is no longer able to continue trading and redundancies have been made."
The company had recently been vocal regarding concerns around soaring production costs, and energy price hikes in particular. MD Charlie Alexander appeared on GB News in February raising concerns about these price hikes. At the time, Alexander told the broadcaster that the company was facing a minimum of 100% increase in fuel costs alongside rising costs in packaging and distribution. But he stressed the business was expected to continue trading through these difficulties.
In its latest filing with Companies House for the financial year ending 30 April 2021, the company posted turnover of £14.1m, a fall from the previous 15 month financial period at £20.5m, due to Covid-related disruption. However, operating profit stood up, rising slightly from £369,886 in Bleiker's previous accounts to £373,159.
FRP reported it was now on site and working with staff in making applications to the Redundancy Payments Office. The administrators added they were continuing to search for a buyer.
Bleiker's Smokehouse products were still available to purchase on the Tesco and Sainsbury's websites as of 4 May.