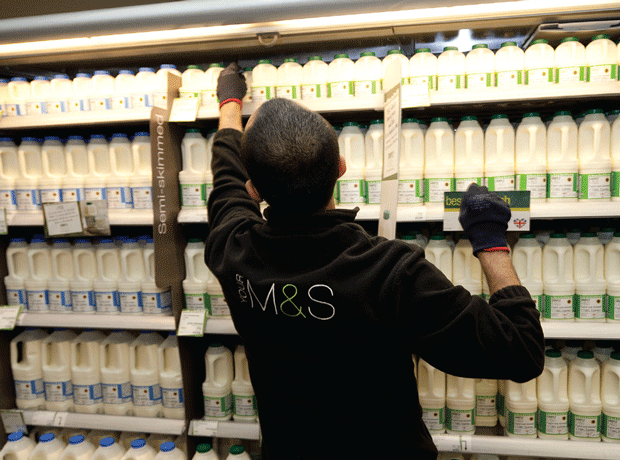 Top story
Marks & Spencer has announced it plans to cut around 7,000 roles over the next three months as a result of a "material shift in trade" due to the coronavirus outbreak.
The job losses will be focussed on its central support centre, regional management, and in its UK stores, reflecting "the fact that the change has been felt throughout the business".
It said "a significant proportion" of lost jobs will be through voluntary departures and early retirement.
M&S said that in-store clothing & home sales remain well below last year amid strong growth in online and home delivery.
"It is clear that there has been a material shift in trade and whilst it is too early to predict with precision where a new post Covid sales mix will settle, we must act now to reflect this change," the company stated.
It also said the coronavirus period showed staff can work more flexibly, with more transitioning between food and clothing & home and the deployment of its store technology package developed with Microsoft has enabled it to reduce layers of management and overheads.
Concurrently it expects to create a number of new jobs as we invest in online fulfilment and the new ambient food warehouse and reshape its store portfolio over the course of the year.
CEO Steve Rowe commented: "In May we outlined our plans to learn from the crisis, accelerate our transformation and deliver a stronger, more agile business in a world in which some customer habits were changed forever.
"Three months on and our Never the Same Again programme is progressing; albeit the outlook is uncertain and we remain cautious. As part of our Never The Same Again programme to embed the positive changes in ways of working through the crisis, we are today announcing proposals to further streamline store operations and management structures.
"These proposals are an important step in becoming a leaner, faster business set up to serve changing customer needs and we are committed to supporting colleagues through this time."
Meanwhile, M&S group sales for the 19 weeks to 8 August were down 19.2%, albeit improving to a 10% drop in the final eight weeks of that period.
In the last 13 weeks total Food sales have increased 2.5% as M&S Food sales have built steadily from the shifts in demand and closure of travel locations at the outset of the crisis.
In that same period like for like sales excluding the impact of the closure of hospitality and travel franchise units were up 10.6%, with an improving trend as more locations recover and performance has regained momentum.
The transition to taking over the supply agreement with Ocado Retail is on track for September and M&S said it is beginning to see the benefits as planned in the form of trading terms and the launch of over 500 new products in M&S stores from the expanded online range created for the switchover.
However, clothing and home sales were down 49.5% in the 19 week period and by 38.5% in the last 13 weeks.
In the 8 weeks since store re-opening total sales have been down 29.9% with trends steadily improving. In those 8 weeks store sales were down 47.9% and online has continued to perform strongly up 39.2% on last year.
The performance of store sales has varied widely across the estate with some of the newer out of town stores trading close to last year's level of sales overall in recent weeks but legacy town centre stores and some shopping centres still heavily impacted by social distancing and reduced footfall.
Clothing and home online sales were up 42.2% in the 13 week period and M&S.com sales up 46.9%.
M&S said there has been a substantial change in delivery mix, with 68% of orders delivered to home, compared with 29% the previous year.
M&S shares have opened down 2.2% to 111.1p on the news.
Morning update
The latest grocery market share figures from Kantar show take-home grocery sales growth slowed to 14.4% year on year during the 12 weeks to 9 August 2020 as sales begin to fall away from the heights of the lockdown period.
Grocery spend of £9.7bn over the past four weeks makes it the lowest since February, although this is still considerably higher than pre-pandemic levels.
In the latest 12 weeks all of the major retailers registered overall take-home sales growth. However, all bar Ocado saw that growth slow compared with July.
Morrisons was the fastest growing big four retailer, with sales up 16.0% driven by a particularly strong performance from its supermarket stores.
Tesco was up 12.8%, Sainsbury's up 10.9% and Asda up 9.5% but all lost overall share.
Iceland was the second fastest growing retailer at 29.2%, its share increasing to 2.4%. Meanwhile, Co-op increased its share to 7.1%, with growth of 22.4%.
Lidl sales were up 15.7% and Aldi up 12.7%.
The highest overall growth was at Ocado, which was up 45.5% year on year.
Charlotte Scott, consumer insight director at Kantar, said: "While things are far from normal, the data shows a gradual softening of the more extreme lockdown trends in the grocery market. The relaxing of rules across much of the country means shoppers are less inclined to stock up their cupboards with regular large trips."
That has seen average spend drop below £25 for the first time since March to £24, although it is still considerably higher than the pre-Covid average of £19 per trip.
This period saw the introduction of mandatory face coverings for visiting shops in England. The number of supermarket trips was two million lower than would have usually been expected in the week after the rule was adopted, and currently just over half of shoppers say they feel safe in stores.
Scott added: "With the country officially entering recession last week, atypical behaviours are likely to continue. During a recession we would generally expect shoppers to manage their spend more carefully. Early evidence suggests that most are not yet choosing to trade down, with brands and premium own label lines currently performing well, however price cuts have increased compared with July as some people look for opportunities to save."
Kantar also found grocery inflation now stands 2.9% for the 12-week period ending 9 August 2020, with prices rising fastest in markets such as ice cream, canned colas and household cleaners while falling in fresh poultry, butter and vegetables.
Meanwhile, Nielsen found that supermarket sales growth slowed to 7% in the four weeks to 8 August as shoppers began to truly settle into new shopping routines, post lockdown.
The warm weather, coupled with Brits working from home, spending less on dining out and embarking on UK 'staycations' over the summer have all contributed to this steady growth in UK grocery sales, compared to the 1% growth during this same period last year.
Online sales accounted for 97% of the growth - a total of £658m - as sales made in-store were only up by £20m.
Over the last four weeks, in-store sales growth overall remained flat at 0.3% but online grocery growth continued to accelerate, up 117%, maintaining its 14% share of all FMCG sales.
In terms of retailer performance, Morrisons (+13.6%) continues to outperform the other 'big four' UK supermarkets and increase market share, but Iceland (+24.4%) has the strongest growth overall.
The discounters Aldi (+10.8%) and Lidl (+9.1%) also show signs of steady growth - which, in their case, is coming almost entirely from in-store sales.
Mike Watkins, Nielsen's UK Head of Retailer and Business Insight, said: "It is evident that some new shopping habits that developed as a result of the pandemic - such as opting to shop online - continue. UK shoppers are now establishing a new, regular shopping routine and we can expect the current levels of growth to continue for the rest of the summer.
"Shoppers are still shopping less often than they did prior to the pandemic, visits to stores are down 15% on the same period last year, but up from the 22% decrease registered in May, so there are signs of a willingness to return.
Watkins added: "The shift to online grocery shopping, which looks set to stay, is the most dramatic change of shopping behaviour we've ever seen. Though it has clearly been a positive gamechanger for shoppers and some retailers, it has come at the expense of stores - something that we have already seen in non-food retailing."
In company news, catering giant Compass Group has announced that Ian Meakins will replaced chairman and ex-Diageo CEO Paul Walsh when he steps down from the board on 1 December.
Meakins was previously CEO of Ferguson (formerly Wolseley), Travelex and Alliance Unichem. He has also served as senior independent director at Centrica and a non-executive director at O2.
Meakins commented: "It is a great honour to take on the role of Chair at Compass. I look forward to working with Dominic and the executive team to drive forward the Group's strategy and ensuring that it continues to create significant value for all stakeholders."
CEO Dominic Blakemore added: "On behalf of the board, and personally, I would like to thank Paul for the enormous contribution he has made to Compass. He has been an excellent chair and he has played a crucial role in the successful development of the Group. I also want to welcome Ian to the group, I look forward to working with him."
Walsh commented: "After almost seven years as chairman, with a strong and well-established chief executive in place, it is the right time for me to step down. Ian has deep experience of B2B and B2C companies and is an outstanding choice to succeed me. Compass is a world class business and it has been a privilege to serve as its chairman."
On the markets this morning, the FTSE 100 has fallen back 0.4% to 6,100.4pts.
Fallers so far today include Glanbia, down 3.2% to €9.19, Nichols, down 3% to 1,205.7p and Bakkavor, down 1.6% to 66.6p.
Risers include McBride, up 3.1% to 63p, PZ Cussons, up 3% to 207.5p and SSP Group, up 1.5% to 233.8p.
Yesterday in the City
The FTSE 100 started the week up 0.6% to 6,127.4pts.
Cranswick jumped 6.6% to 4,076p after its first quarter sales rose more than 20% in the first quarter driven by a spike in demand during lockdown and stockpiling.
Other risers included Total Produce, up 5.4% to 97.5p, Greencore, up 3.9% to 125.2p, Associated British Foods, up 2.6% to 2010p, Finsbury Food Group, up 2.4% to 59p and Ocado, up 2.2% to 2,382p.
The day's fallers focussed on those with out of home exposure, including SSP Group, down 4.2% to 230.4p, Coca-Cola European Partners, down 3.7% to €34.75, WH Smith, down 2.1% to 963.5p, Greggs, down 2% to 1,449p and C&C Group, down 1.8% to 222p.