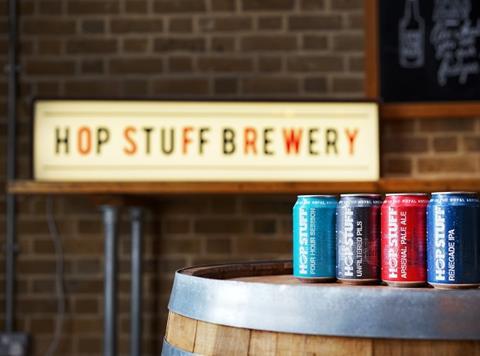 London-based craft brewer Hop Stuff has been sold to Carling owner Molson Coors in a pre-pack deal, wiping out £1.5m of crowdfunding investment.
The six-year old craft brewer, producer of a range of IPAs, pilsners and stouts, called in administrators at KPMG on Friday after it experienced "tough financial headwinds".
The administrators sold Hop Stuff's assets – including a brewery and three bars – to beer giant Molson Coors as part of a pre-packaged administration process, transferring all staff and securing future trading.
KPMG partner Neil Gostelow said the sale was the only way to avoid Hop Stuff entering into liquidation.
"This sale of the brand and assets to Molson Coors secures the brewery, the brands and Taprooms and all jobs," Gostelow added. "Under the circumstances, it was the best possible option to make sure the business could continue to trade."
However, the move left more than 1,300 investors, who had pledged support for the craft brewer in one of its three crowdfunding campaigns, without a penny.
Hop Stuff founder James Yeomans, who will remain with the business, said: "It's been a very challenging few months and we're incredibly grateful for the support of our loyal fans, investors and our brewery and Taproom teams.
"I'm really excited to have found a home for our brand with Molson Coors."
Molson Coors will use the acquisition to expand its craft beer offer in the UK, as well as taking the next step towards the premiumization of its portfolio.
Jim Shearer, marketing director at Molson Coors, said: "The brand and asset purchase of Hop Stuff is one more step we're taking to premiumise our portfolio, while preserving the authenticity and provenance of much-loved brands."
Back in May, Hop Stuff said it was exploring options to continue trading – including a potential sale - after it was forced to suspend its brewing activities due to pressure from HRMC and its landlord.
Hop Stuff explained it had run into cashflow problems due to "an error at HRMC" which meant beer duty was being paid incorrectly.
The brewer had to suspend production for four weeks while the situation was resolved, causing a £100k to £200k impact leading to a delay in rental payments.
In February last year Hop Stuff raised almost £800k via a crowdfunding campaign on Crowdcube that valued the company at £25m.
The fundraising drive, which was for an initial £400k, marked the third time the brewer has secured crowdfunding cash, having raised more than £1.5m since 2013.