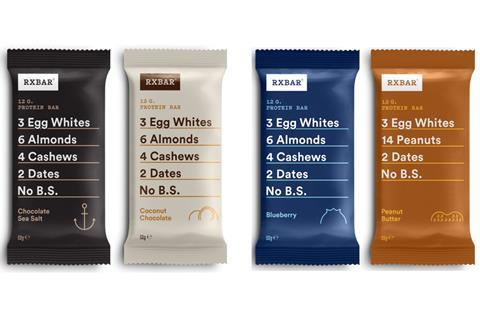 Kellogg's is axing its RX Bar business in the UK, just three years after it snapped up the protein bar brand for almost half a billion pounds, The Grocer can reveal.
It is understood most of the brand's UK staff will finish at the end of December – though RX Bar will continue to be sold in the US and Canada.
Confirming the move, a Kellogg's spokeswoman told The Grocer it was "proposing to close its UK RX Bar operation" but remained "committed to the snacks category and to launching future on-trend snacks innovation in the UK".
Kellogg's splashed $600m (£465m) on the US brand in October 2017, launching it into the UK in 2019 with a DTC model, as well as listings in gyms and workout spaces.
However, the protein bar landscape "has shifted and the likes of Nakd and Grenade are really owning the space, plus the retailers have maybe distanced themselves from challenger brands, embracing the big boys with the deeper pockets once again", said an industry source.
Rather than run the brand from its Manchester HQ after the acquisition, Kellogg's opted to take a startup-style approach and allow the brand to be run from separate offices in Marylebone, London, with MD Richard Peake at the helm. Peake left in May 2020 to lead health food brand Merchant Gourmet.
"RX always wanted to be very separate from Kellogg's and maybe that wasn't the solution if they wanted to shift large volumes," the source added. "Piggybacking on Kellogg's would have given them acres of shelf space but they were keen to grow organically."
It launched with a considerably smalller range of bars in the UK compared with its US business, comprising just four flavours: Chocolate Sea Salt, Blueberry, Coconut Chocolate and Peanut Butter.
The brand's packaging had likely proved "a little confusing" for UK shoppers, the source suggested.