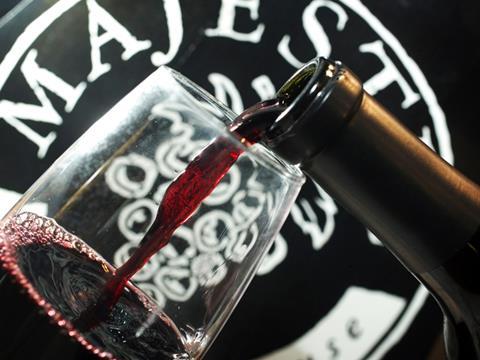 Top story
Majestic Wine is set to close stores as part of an extensive transformation programme which will see the retailer rebrand as Naked Wines.
The UK's largest specialist wine retailer has announced plans to shut stores and focus on its more profitable direct-to-consumer Naked Wines business as it battles a challenging retail sector.
The Majestic name will disappear, with stores set to be rebranded under the Naked name, as it builds on the online and international focus of the business it acquired in 2015.
Majestic, which currently has 200 stores, did not disclose the number of store closures but said it hoped to reduce job losses by transferring staff to Naked.
It expects to achieve its £500m sales target for the full-year, but added that Naked's business model was the main driver for growth over the past year.
Restructuring charges are expected to be up to £10m in its 2019 results, but added there could also be "substantial cash restructuring charges" in the following year.
Despite the costs, Majestic expects to increase investment in new customer acquisition in Naked from £20m in the current financial year, to £26m the following year.
The retailer's transformation plans are "well advanced" and final details of the changes are set to be announced in June, said group chief executive Rowan Gormley.
"It is clear that Naked Wines has the potential for strong sustainable growth, and we will deliver the best results for our shareholders, customers, people and suppliers by focusing all our energies on delivering that potential," he commented.
"We also believe that a transformed Majestic business does have the potential to be a long-term winner, but that we risk not maximising the potential of Naked if we try to do both.
"Where we have no choice but to close stores we will aim to minimise job losses by migration into Naked.
"Therefore we have taken a decision to focus all of our capital and energies into delivering the long-term potential of Naked, and releasing value from Majestic."
In early morning trading, shares dived 5.2% to 257p.
Morning update
Brewer and pub group Greene King (GNK) has announced the appointment of former Tesco Ireland commercial director Sandra Turner as a non-executive director.
Turner joins the group after years working in the consumer goods and retail sectors, including for Wilkinson Sword, Unilever and Tesco.
She will also become a member of Greene King's audit, nomination and remuneration committees.
Turner also holds non-executive director roles at Greggs, Carpetright, McBride and Huhtamäki Oyj.
"I am delighted that Sandra has agreed to join our board," commented Philip Yea, chairman of Greene King.
"She brings a strong mix of experience from both executive and non-executive roles in diverse consumer-oriented companies and we look forward to her contribution."
Elsewhere, Ian Bull has joined takeaway business Domino's Pizza Group (DOM) as a non-executive director, amid a reported fracas between the company leadership and franchisees.
Bull joins the business following senior finance roles at BT Group, time as group finance director at Greene King, chief financial officer at Ladbrokes and most recently as chief financial officer of Parkdean Resorts until 2018.
"Ian's range of financial and operational experience gained from complementary sectors, together with his extensive 'plc' experience, make him an excellent addition to the board. On behalf of the board, I am delighted to welcome Ian to Domino's," commented chairman, Stephen Hemsley.
Bull added: "I am delighted to be joining Domino's and look forward to working with the board and executive team."
The FTSE 100 has started the day lower, sliding 0.6% to 7,162pts, after the Asian markets were hampered by fears over a recession.
This morning's early risers include Domino's Pizza Group (DOM), up 2.4% to 231.9p, Treatt (TET), up 1.4% to 418.5p, and Young's & Co (YNGA), up 0.9% to 1,656p.
The early fallers include Fevertree Drinks (FEVR), down 3.9% to 2,491p, McColl's (MCLS), down 2.2% to 69.2p, and Just Eat (JE.), down 1.6% to 717p.
Yesterday in the city
With four days until 29 March, all eyes will be focused on Theresa May to provide clarity around the UK's Brexit agreement this week.
Back in the grocery sector, a lot of eager eyes will be focused on the soft drink sector as the week kicks off with a pair of full-year announcements.
Posh tonic maker Fever-Tree (FEVR)will announce its full year figures, with analysts expecting a positive result, predicting a 39% rise in sales for the year.
On the same day, Irn Bru manufacturer AG Barr (BAG) will announce its final figures for 2018, highlighting the impact of April's soft drink levy.
In the US, Schwarz producer McCormick will announce its first quarter sales figures on Tuesday as well.
On Wednesday, Hilton Food Group (HFG) will look maintain its strong recent growth when it announces its full-year results.
There are also expected to be a number of key company updates announced at this week's Credit Suisse consumer conference, with announcements from Ocado (OCDO), Diageo (DGE), B&M (BME) and others