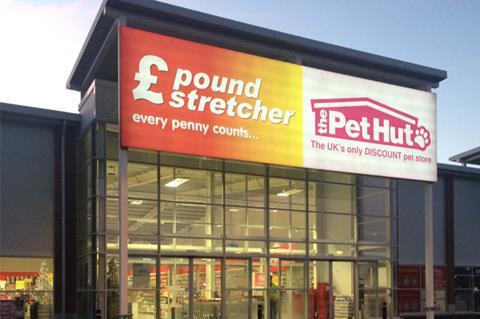 More than half of Poundstretcher's estate is at risk of closure in a rescue plan for the business, it has been confirmed.
The high street discounter, which employs over 5,500 people, has launched a company voluntary arrangement (CVA) as it seeks to stem losses from underperforming stores.
As revealed by The Grocer last week, around 30 stores have already closed since the start of lockdown in March, some permanently, with many more at risk.
KPMG confirmed this morning that the fate of 253 of Poundstretcher's estate of over 450 stores across the UK was dependent on their performance and landlord co-operation in the coming weeks.
Under the CVA, the stores will pay full rent for an initial period of six weeks "after which continued trading will depend on the commercial merits of each store with the relevant landlords' collaboration", KPMG said.
The CVA also proposes 30%-40% rent reductions on another 84 stores for a period of three years.
Meanwhile a connected company, Poundstretcher Properties Ltd, from which a further 23 stores are leased, will go into administration before 2 July, the deadline for creditors to vote on the CVA.
At least 75% creditor approval is needed for the CVA to proceed.
The rescue plan leaves 94 stores to be retained at current rents. It is part of a wider turnaround plan which will also realign costs at the head office in Leicester, KMPG said.
"One of the UK's best-known discount retailers, Poundstretcher, has suffered from significant impacts to profitability on several fronts over a sustained period, which were then further exacerbated by the impact of Covid-19 on footfall," said KPMG partner Will Wright.
"With the directors of the business having explored a number of options, this CVA seeks to safeguard the long-term future of the business, across a smaller, more sustainable store estate."
The announcement did not identify affected stores.