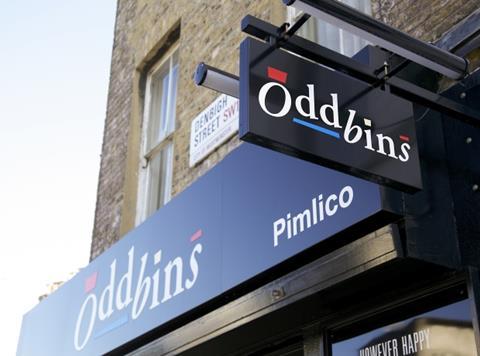 Oddbins has called in the administrators for the second time in eight years.
The ailing chain has turned to administrators Duff & Phelps for aid, blaming the current squeeze on consumer confidence and surging costs.
Joint administrator Phil Duffy said: "The continued decline in consumer spending, pointing to a squeeze on household finances, combined with rising living and national wages, have put increased pressure on retailers' bottom lines.
"As wages struggle to keep up with the pace of inflation and continued, deepening unease and uncertainty over Brexit means consumers are cutting back on spending.
"Add into that mix rising business rates and rents and traditional bricks-and-mortar retailers are undoubtedly feeling the strain."
The business has already warned employees to expect job losses, The Guardian reported earlier this week. Oddbins currently employs approximately 550 people.
Oddbins' stores will stay open while Duff & Phelps reviews the business' finances and explores whether a potential buyer can be found.
The parent company, European Food Brokers, has not entered administration, just its subsidiaries Wine Cellar Trading Ltd, Whittalls Wines Merchants 1 Ltd, Whittalls Wines Merchants 2 Ltd and EFB Retail Ltd, under which the stores are run.
Oddbins' crisis comes as wine businesses across the supply chain face soaring costs thanks to the weakened pound in the wake of the Brexit vote, flagging consumer demand in wine thanks to the rise of gin and craft beer, and an increased duty burden.
"The mix of high street woes and exchange rates have made for a toxic blend," said a senior source at a major wine supplier.
But results filed with Companies House show European Food Brokers had been steadily losing money since before Brexit sent the pound spiralling downwards.
Its turnover fell consistently from 2015 to 2017, with its latest filing, for the year ending 31 January 2017, reporting a £3m sales slump and an operating loss of £460k.
"It's the same pressure that has recently caused Bestway to announce the closure of the flagship Wine Rack store - discounter pressure and increasingly sophisticated online offerings" said an industry source.
The business had suffered from a lack of investment, they added, as well as "not enough specialist buying and sourcing skills, with no real USP and no scale. Bye then".