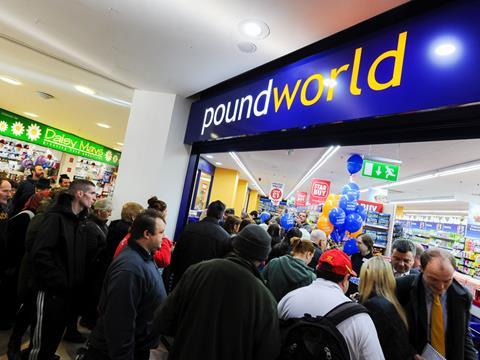 Poundworld is set for a return to the high street after administrators for the stricken discounter sold the brand to a businessman with plans for 250 stores.

Manni Hussain, chairman of Leeds property company 88m Group, wants to begin opening stores early in 2019 and have 250 nationwide by the end of the year.

The 38-year-old, who started his career in retail aged 18, said he saw an opportunity for pound shops in the wake of Brexit.

"In my opinion, the only business that can survive on the high street, especially with Brexit coming, is something that is affordable to everyone," he said.

Everything would cost £1 or less and stock would consist of "all the necessities of day to day" including general merchandise and fmcg.

"I really want a pound shop in every area there is, deprived or not," said Hussain.
Twenty per cent of the planned stores are to be Bargain Buys, the name of a chain owned by Poundworld, which administrators Deloitte sold to Hussain as part of the retailer's intellectual property assets.

The chain was set up by Poundworld in 2013 and at one stage comprised about 50 stores, a number that had dropped to about 20 by the time it went into administration in June this year.

The Grocer revealed last month that rival discounter Poundstretcher had begun opening stores using the Bargain Buys name following Poundworld's collapse.

An application to trademark the name was filed by Poundworld as recently as 5 October, two months after the last stores closed and some weeks after Poundstretcher began using the brand. It is understood Poundworld had not trademarked it previously. About 25 Poundstretcher stores have now opened under the Bargain Buys name, even using a similar font to that of the defunct chain.

"We have an issue with Bargains Buys and Poundstretcher," said Hussain.

"At some point we are going to be issuing proceedings or negotiating something with them because we understand they've used our trademark," he claimed.

"I'm hoping it can be settled amicably. The more they open, the deeper the hole they're digging. My lawyers will be contacting them.

"I don't understand what their game is."

Poundstretcher did not respond to The Grocer's enquiries about its use of the name.

The company to buy the brands is New Money, which Hussain created three years ago as part of his 88m Group but has since "sat on the shelf".

Hussain said he thought Poundworld had moved in the wrong direction by introduding multiple price points over £1. "A pound or less is simple and there's a window of opportunity when people may be tight for a few years."