'Hain Reimagined' will simplify operations and boost marketing
Loss-making Hain Celestial unveiled the latest attempt to turn around its fortunes at an investor day last week.
CEO Wendy Davidson's 'Hain Reimagined' multi-year transformation plan aims to simplify operations at the better-for-you foods group, pivot sales to growth and encourage long-term profitability.
So, what's in the plan, how does it affect the UK portfolio and will it mean more sell-offs?
While Hain is present in more than 70 markets worldwide, 90% of its $1.8bn revenues come from just five: the US, Canada, UK, Ireland and Europe. The aim is to simplify the footprint, align the global operating model, leverage scale and realise synergies.
Davidson, who took the helm in January, sees the UK as "a really important growth market".
It's easy to see why. The UK accounted for the lion's share of the $657.5m in international sales for the year ended 30 June 2023. And Ella's Kitchen, Yorkshire Provender, New Covent Garden, Linda McCartney's, Sun-Pat, Clarks and Hartley's are all at number one or two in their categories.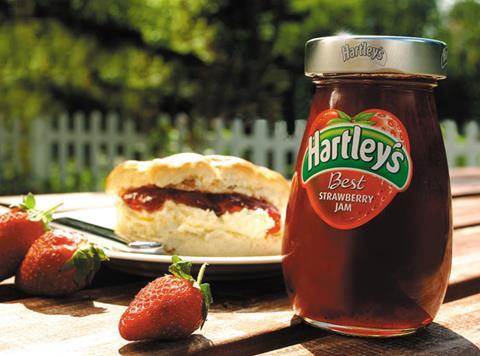 The group highlighted growth in the UK partially offsetting a wider decline in Europe in the recent financial year. However, the majority of that growth is likely to have been driven by price hikes.
And many of those flagship brands have recently lost value – Linda McCartney's was down 20.5% and Sun-Pat fell 9.2%, while Hartleys declined 8.5%, according to the most recent Top Products survey for 2022 by The Grocer.
A senior fmcg source says Hain is caught in a middle ground. It's unable to compete with giants like Unilever, Nestlé, Kraft Heinz, Mondelez and PepsiCo, and is also being outflanked by challengers.
"Hain was way ahead of the curve in positioning itself as a better-for-you player, but it has been left behind as others have flooded into the space. Own label also puts pressure on the brands, and many are underweight in categories and always there to be shot at." A lack of marketing spend hasn't helped, the source adds.
Reinvestment plan
Davidson has highlighted reinvestment in the brands as "absolutely key".
"We went quiet for almost 18 months on many of our brands. We need to have always-on messaging that keeps brands top of mind with the consumer and we need promotions that actually generates in-store excitement," she says.
Another issue to address is the disparate nature of its brands, which are spread thinly across many categories. It means Hain doesn't get enough procurement synergies with the UK mults, says a City source.
Davidson – a CPG veteran whose experience spans Kellogg's, Glanbia, McCormick and Tyson Foods – admits historically Hain has not linked up markets or individual businesses well enough.
"When you run the business as disparate silos, you just don't get the benefits of scale," she says. "We see a great opportunity to leverage that scale. What we've not done historically, is speak with a bigger voice as Hain globally.
"We're working to transform to a globally integrated enterprise and leverage synergies through what we're calling global centres of excellence and shared services. That'll allow teams to share things like innovation, best practices and learnings across geographies and brands. And we're already seeing this benefit."
She offers Ella's 'Melty Sticks' as an example, which has inspired a best-selling teething sticks line in the US under the Earth's Best brand.
Davidson adds there is the same opportunities across meat free, soups and nut butters, with brands sharing learnings globally.
Areas of focus
In a bid to be more focused, 'Hain Reimagined' will see the group concentrate on snacks, baby, beverages, meal preparation and personal care, with growth expected to be driven by the first three.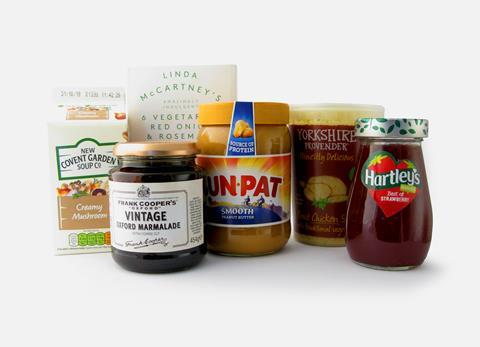 On top of that, a restructuring programme based on brand portfolio optimisation and supply chain improvements is expected to generate annualised savings of $130m to $150m.
That could be read as more brand sell-offs. But Davidson says this is not core to the strategy – the focus is instead on stabilising challenged brands. "Our goal is to get the brands as healthy as possible and then make decisions going forward."
After building a reputation as an acquisition machine, with more than 50 deals taking place over 25 years, Hain has already radically slimmed down.
Former CEO Mark Schiller, who joined at the end of 2018 with a brief to stabilise the group, oversaw wide-scale divestments and rationalisation, reducing its brands from about 60 to nearer 30 and eliminating roughly 1,000 SKUs.
So there is unlikely to be much more on this scale –although a dealmaker source says there are still plenty of M&A options on the table for Hain in the UK, including "attractive" brands such as Ella's Kitchen and Linda McCartney.
"The issue is they probably can't command the multiples they once did, and they've lost a lot of ground in meat-free as well," the source adds.
A massive devaluation of the stock – with Hain's market cap sitting at less than $900m following a 75% drop in the shares over the past two years – also leaves the entire group vulnerable to a takeover or an activist agitating for radical change.
Through all of this activity, Hain projects its 'Reimagined' plan will lead to long-term organic net sales growth of 3%-plus, adjusted EBITDA growth of 10%-plus and adjusted EBITDA margins of 12% by the 2027 financial year.
That those figures aren't exactly racy spells out just how much Hain has underperformed – and how far it has to go.