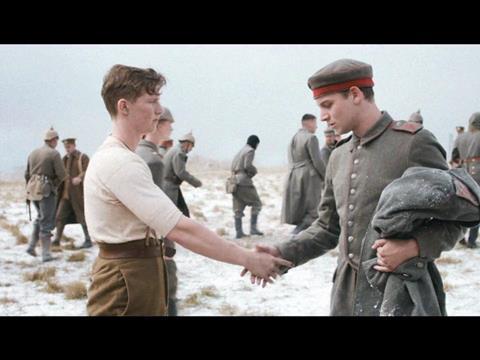 Sainsbury's third quarter trading has been dubbed its worst festive period in a decade, but the lower than expected sales fall is more evidence that the supermarkets seem to have avoided the catastrophic festive slump some had predicted.
The FTSE 100 retailer reported a 1.7% like-for-like third quarter sales decline and a 0.4% dip in total sales (both excluding fuel) – beating consensus expectations of a 3.2% like-for-like sales drop.
The reason Sainsbury's beat these expectations seems to be that its Christmas trading bucked the recent worrying trend. Bernstein analyst Bruno Monteyne noted that recent Kantar data pointed towards a 3.6% like-for-like sales fall for the first 10 weeks of the third quarter, implying that the four weeks to 4 January saw sales growth of 2.6% and positive like-for-likes of 1.3% for the supermarket.
"The comparable for this four week period was very tough (+6.7%), so this represents an excellent Christmas period," he said.
Sainsbury's was similarly buoyed by its performance during the festive period, with CFO John Rogers calling it "one of the best Christmases ever" from an operational point of view.
Investors reacted by driving Sainsbury's share price up by more than 4% to 246p in early trading – but the shares fell back to 230.8p by mid-afternoon, a fall of 1.6% on last night's closing price.
The share price dip looks related to concerns that the more positive Christmas trading won't last.
CEO Mike Coupe was treading a careful line between satisfaction and sober caution today. While striking a positive note that the business is "well set-up" for 2015, he also cautioned the trading environment remained "uncertain" and predicted that the fourth quarter would be roughly equal to the first half (around -2.1%).
One of these uncertainties is how a potentially resurgent Tesco would affect Sainsbury's. On this point, Coupe was rather less cautious: "I've spent the best part of 20 years competing against Tesco and there have been many times in my time at Sainsbury's people have often written us off on that basis," he said. "They haven't been right yet because we've stuck to doing what we believe is right for customers and we'll continue to do that."
Another potential area of concern is online, with Sainsbury's internet growth of 6%, which is far below some of its – admittedly less mature – peers. Coupe wouldn't comment on future online growth expectations, but he did say Sainsbury's would not engage in the aggressive level of vouchering seen elsewhere in the online marketplace.
Yesterday Sainsbury's announced another £150m of investment in price – and today does illustrate how much price deflation has affected the supermarkets' growth. Christmas footfall was at record levels and Coupe noted that "broadly speaking we've sold the same volume of stuff" – suggesting price deflation has had a significant contribution to the like-for-like sales decline.
Coupe also stressed the continued shift to convenience (with its convenience sales growing by 16%), but dismissed the notion that the major supermarkets will reduce floorspace by exiting large superstores. "One you've sunk the capital in, those stores are cash generative", he explained. "The majority of customers will continue to do the majority of their shopping in out-of-town stores so I wouldn't anticipate large amounts of closures of these stores across the industry".
Heading into the January reporting season there was a sense – exacerbated by weak Kantar data – that Sainsbury's was coming under pressure as Tesco's performance began to stabilise. Although Sainsbury's by no means shot the lights out in Q3 – its solid performance will go a long way to easing some of that pressure, as a "solid" performance is realistically the most the market could have expected.