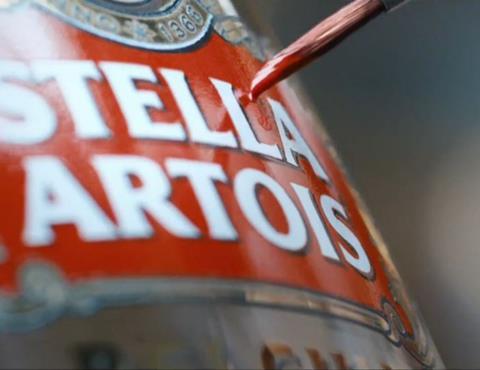 Global brewing group AB InBev posted below expectation growth this morning, with third quarter revenue rising by 2.3% as overall beer volumes fell thanks to a slowdown in the US, Russia and China.
The Stella Artois brewer's overall volumes declined by 2.6% in the third quarter, with own beer volumes dropping by 2.7%.
Third quarter revenue was 2.3% up to $11.7bn, while normalized EBITDA undershot analysts expectations after rising just 1.3% to $4.6bn.
The company stated: "We believe that the third quarter was a one-off in terms of EBITDA performance, and is not reflective of expected future trends for the business. We have a clear strategy built around long term sustainable topline growth, and are pleased with the direction in which we are heading."
The brewer's shares opened 2.9% down on the update at €84.59, but had recovered almost all that lost ground by lunchtime.
The volume downturn was driven by weak volume performance in key markets. Europe was by far the weakest performer, with third quarter volumes falling by 9.5%, primarily driven by sales falls in Russia and the Ukraine because of the unstable political situation
Volume in North America was down 3.5%, while volumes in China declined by 4.9%, mainly due to cold temperatures in August and September.
The story was little less positive in the UK, which saw volumes down 9.8% in the third quarter to trim volume growth for the first nine months to 1.3%.
Inge Plochaet, BU President, AB InBev UK, said the first nine months had seen "excellent growth in Budweiser in both the on and off trade and a very strong performance in Stella Artois in the on trade and retail".
Plochaet put the third quarter decline down to "the exceptionally good weather in July 2013 which led to significant volume increase in last year's third quarter results, as well as customers having high stock holdings following the World Cup."
Overall, AB InBev said it expects the earnings and volume picture to be more positive in the fourth quarter.
The company stated: "We expect an improvement in the trend of US industry volumes compared to 2013, driven by a stronger economy, partly offset by challenging winter weather in 1Q14. We expect the Mexican beer industry to return to growth in FY14, driven by a stronger economy, as well as our own commercial programs.
"We expect Brazil beer industry volumes to resume growth in FY14, helped by the 2014 FIFA World Cup, and we expect a year of solid volume growth in China".