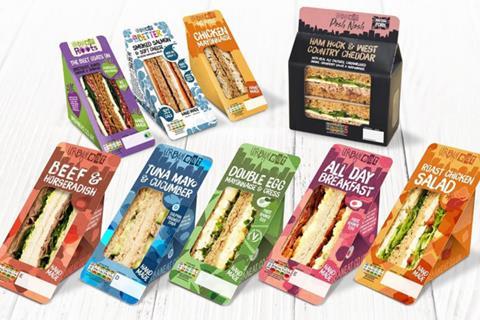 Sandwich giant Adelie Foods posted another eight-figure loss despite improvements in its underlying performance.

Accounts at Companies House for Harvest Midco - Adelie's holding company - show a pre-tax loss of £54.9m for the year to 30 September 2018, compared with £54.3m in the 18 months to September 2017.

The group's profitability was hit by non-cash impairment charges of £30.1m as well as £12.1m in assets amortisation costs.

On an adjusted basis, the supplier reported an EBITDA loss of £2.4m, an improvement of 71% on the pro-rata £8.3m loss the prior year.

"The year's EBITDA improvement demonstrates the upwards trajectory brought about by the business during the year," it said.

Adelie posted a pro-rata sales rise of 10% to £248.5m as it secured new business in the foodservice and convenience channels. Turnover was also helped by an 11% increase in sales of its Urban Eat range.

Adelie CFO Mark Stott said: "The focus during 2018 has continued to be strengthening the business in its strategically important sectors, and investing for the long term.

"For example, there has been further success in securing multi-year contracts with major customers, underpinning a high proportion of revenues, we have rolled out a state-of-the-art delivery service solution to enhance customer experience and enable operational efficiencies in transport and distribution."

The company had plummeted into the red last year following the loss of major supply contracts with Sainsbury's and WH Smith and two factory closures, leading to exceptional costs of £16.1m.

It booked £2.8m exceptional charges for the most recent year, mainly related to restructuring and further site closure costs.

Since the end of its accounting period, the supplier lost a further contract with a private label customer with a "significant proportion of business" won by a competitor.

In February, Adelie also shut down its site in Kilmarnock as, following investment at its larger factories, "there was a reduced requirement to have a production facility in Scotland".

Looking ahead, Adelie said it had put in place "various contingency plans" to cope with the interruption of raw materials supply in the event of a no-deal Brexit.

"Given the current economic conditions, the external commercial environment is expected to remain highly competitive," the company said.

It has, however, "taken steps" to secure long-term business and expects sales of its Urban Eat range to keep growing.

Stott added: "There have been many positive developments since the year-end, which is now over nine months ago. A number of profit-enhancing initiatives are underway for delivery during 2019 which will return the business to profitability, and we are about to announce exciting developments for our Urban Eat brand."

The supplier was bought by private equity firm Intermediate Capital Group in September 2016 from fellow PE firm HIG Capital.