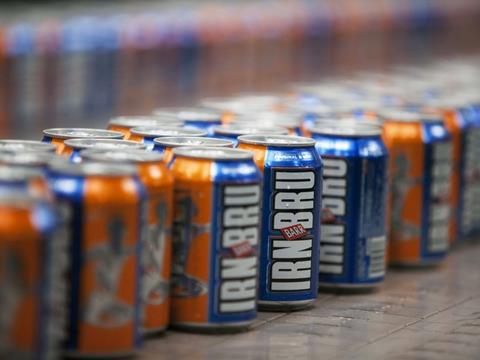 AG Barr (BAG) has blamed tough comparatives and poor weather for a "subdued" first half of the year.
The Irn-Bru maker's shares were down 3.1% to 613.5p this morning after its pre-close trading update for the six months to 25 July.
Ag Barr said half year revenues are expected to fall 5% to £128m, with an organic sales fall of 3.5% once the sale of the Orangina and Findlays brands are taken into account.
It stated this morning: "In the six month period to date trading has remained subdued as anticipated; the combination of tough prior year comparatives and changes to market promotional phasing, related to our Glasgow 2014 Commonwealth Games activity, along with poor weather, particularly in the north of the UK, have all had an impact on our sales performance.
It added that its "Business Process Redesign" project transition to a new company wide system platform in early June has also created some short term customer service challenges which have also impacted overall revenues.
However, AG Barr said that financial performance will be weighted to the second half of the year given the strong performance in the first half of 2014 and the operational improvement programme currently being implemented.
It said: "We expect trading across the market will remain competitive, however assuming there are no significant changes to the competitive or customer landscape and that we continue to make good progress on all our change initiatives, we plan to regain sales momentum which would enable us to meet our expectations for the full year."
Shore Capital, which has retained its 'hold' rating on the stock, expected Barr to deliver a stronger trading performance in the second half, but the broker noted that the competitive landscape remained challenging. Its forecast assumes 3.5% sales growth in the second six month of the financial year.