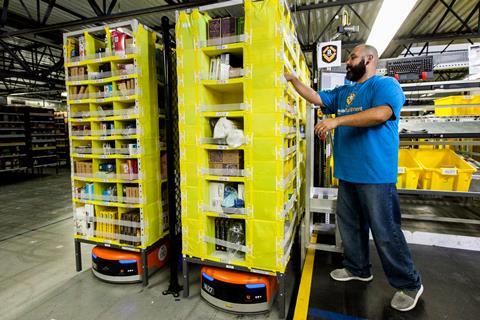 Amazon in the UK generated $17.5bn (£13.4bn) in net sales last year, representing 20.7% growth on 2018.
The total includes takings from its online stores, subscription services and cloud computing arm, Amazon Web Services.
The local operation slightly outperformed growth in global takings, which for the year ended December increased by 20% to $280.5bn. Operating income increased to $14.5bn, compared with $12.4bn in 2018.
The fourth quarter earnings – which beat many analysts' predictions – saw Amazon's market capitalisation temporarily exceed $1 trillion.
Amazon's CEO Jeff Bezos noted growth in Prime membership as a key driver in takings growth.
"We've made Prime delivery faster – the number of items delivered to US customers with Prime's free one-day and same-day delivery more than quadrupled this quarter compared to last year," Bezos said. "Members now have free two-hour grocery delivery from Amazon Fresh and Whole Foods Market in more than 2,000 US cities and towns."
Delivery of groceries ordered on Amazon Fresh, which previously cost $14.99 a month, last year became a free benefit for Prime members.
Amazon said that orders from Amazon Fresh and its physical store chain Whole Foods Market had more than doubled in the fourth quarter compared with the same period last year. However, this resulted in a slight fall in net sales through Amazon's physical stores, down to $17.2m in 2019 compared to 2018.
The overall positive story for the US business has prompted analysts to predict expansion of Amazon's grocery business in the UK.
"The grocery side of the business will continue to expand aggressively as we see Amazon look to penetrate more markets globally and focus on its bricks-and-mortar stores to provide a more omnichannel experience," said Nick Everitt, director of advisory at Edge by Ascential.
"In the UK, we will see this ramp up via the imminent launch of its Amazon Go store and new supermarket format in the US," Everitt added. "We also anticipate that it won't be long before Amazon looks to make an acquisition of a UK retailer in order to gain more scale and reach a wider customer base.
"Morrisons is a likely target, given its current partnership, but Sainsbury's more premium offering and southern base also make it a strong contender."
Despite the better than expected results, Amazon's overall growth trajectory is slowing, down from 30% year on year in 2018.
This proved Amazon was "not immune to the law of big numbers and returning them to the growth rate in 2015," said Hilding Anderson, head of retail strategy, North America at digital consultancy Publicis Sapient.
Anderson was bullish on the company's continued success, however, pointing to the ability of Prime to deliver 10 million SKUs to consumers in the next day. Walmart, by comparison, has reported 220,000 SKUs.
"Amazon had to hire over 100,000 people this year and invest $1.5bn just in Q4 to achieve this," Anderson said. "We believe the story of 2019 for Amazon is not, as some expected, Whole Foods and the physical store. It is the continued focus on the customer, and a willingness to make staggering investments that few other companies would make to delight them."
Correction: an earlier version of this story stated Amazon UK had achieved 20.7% growth in net sales through its online stores alone.