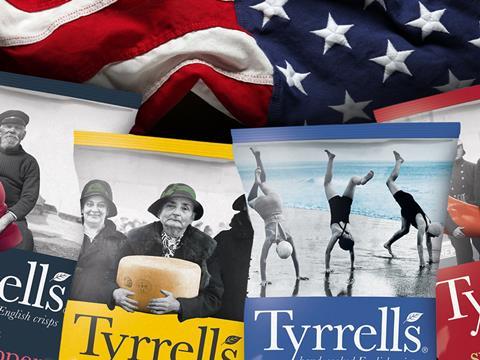 The US owner of upmarket crisp brand Tyrrells has cut SKUs and axed private-label contracts as part of a new UK turnaround plan.

Having acquired the snacks group last August, Amplify Snack Brands lowered its earnings and sales forecasts for 2017 partly because of the "disappointing" first-half performance of Tyrrells in the UK, amid tougher than expected conditions in Britain.

And in May Amplify announced a major shakeup of its international management, including the departure of former Tyrrells CEO David Milner, after sales fell back in the UK in the first quarter of 2017.

Talking to analysts this week, Amplify CEO Tom Ennis admitted the international business, primarily the acquired Tyrrells business, was in turnaround mode after "disappointing" UK sales so far this year. He said Tyrrells had been hit by supermarkets shifting their focus to own label to combat the discounters. "So our branded business didn't get as much promotional or merchandising support and that had a definite negative impact."

Amplify has already ditched some "unproductive" branded SKUs and cut back on what it called "non-strategic" own-label business to free up capacity to focus on its core branded SKUs and regrow the bottom line.

Former Burton's Biscuits CEO Ben Clarke has been working as an advisor on Amplify's international business since the shakeup of its management team and this week joined its board permanently.

Ennis said the international turnaround was already showing signs of progress. "We are very pleased with the key recent improvements our international team is executing," he said.

Strong performances in Tyrrells' non-UK markets, notably Australia and France, meant international second-quarter sales were up by "almost double digits" and are expected to grow by a mid-single-digit figure in the second half.

However, pressure on its branded sales in the UK meant Amplify's international business posted an operating loss of $1.7m (£1.3m) in the first half.

Amplify's cut in profit and sales forecasts reflects its view that the US will now be unable to fully compensate for the UK decline as headwinds mount in its home market.

However, the group announced plans for a soft launch of the Tyrrells brand in the US in the third quarter of this year, followed by a bigger push in the first quarter of 2018. "We'll have a very robust launch of the Tyrrells brand in the US," Ennis said. "We're still very bullish on Tyrrells' ability to work in the US as well as other parts of the world."

Overall Amplify's second-quarter net sales were up 68.7% year on year to $101m in the 13 weeks to 1 July, taking first-half revenues up 64.8% to US $188.2m, and reflecting its international presence with the £300m purchase of Tyrrells in August 2016.

Ennis declared himself "pleased with the continued growth and momentum across our portfolio of better-for-you brands".

However, Amplify pulled back its full-year net sales forecast to between US $385m-$400m from $404m-$420m and adjusted EBITDA back to $92m-$100m from the previous forecasts of $103m-$111m.