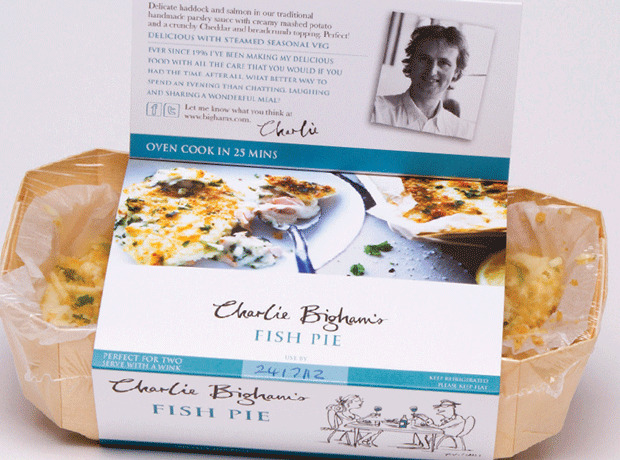 Sales at Charlie Bigham's have grown again despite a "fiercely competitive" grocery market and rising food costs as consumer appetite for its posh ready meals continues to get bigger.
Bighams Ltd, the registered name of the wider group, boosted revenues 11.1% from £26.6m to £29.6m in the year ended 31 August 2014, according to new accounts just filed at Companies House.
The fastest growing areas were sales of the Charlie Bigham's brand, with meals for two selling at about £7 each in a number of supermarkets, including Waitrose, Ocado and Sainsbury's.
"We have a lot of opportunities to grow with existing and new customers, across all ranges, and we will do our best to take advantage of these by providing the highest-quality food and best possible service to all our customers," the business review said.
"While the market remains fiercely competitive, with significant food cost inflation, we were able to hold prices for most customers, and to maintain healthy gross profit levels thanks to very significant improvements in efficiency and effective buying."
Pre-tax profits at Bighams fell back 22.9% in the period from £2m in 2013 to £1.6m as administrative costs rose and the company continued to invest in future growth.
"FY14 was a solid year for us, when we made some important long-term investments in continuing to improve our quality, developing the range of food we make and extending our capacity," founder Charlie Bigham told The Grocer. "Six months on we are already seeing a return on many of our investments so are confident we will have a great year in FY15.
"We are excited that more and more people are discovering and enjoying our food and, supported by our recent TV advert, our food is appearing in more stores. We look forward to many more years of growth to come."
In March this year company said its first-half retail sales to the end of February had jumped 50% year on year to £19m. Full-year retail sales to the end of August 2014 were £26m.
Founder Charlie Bigham told The Grocer at the time that he expected sales to top £40m by August this year thanks to the strong partnership with the likes of Waitrose, Sainsbury's, Ocado, Booths and Budgens. The brand also launched its first TV ad and upped the marketing budget for 2015 to £3m.
Bigham started the company in 1996 and has grown revenues in the past few years from £14.7m in 2009 to the present total. The group now employs 265 staff who prepare about 16,000 meals a day in the Charlie Bigham's London kitchen.