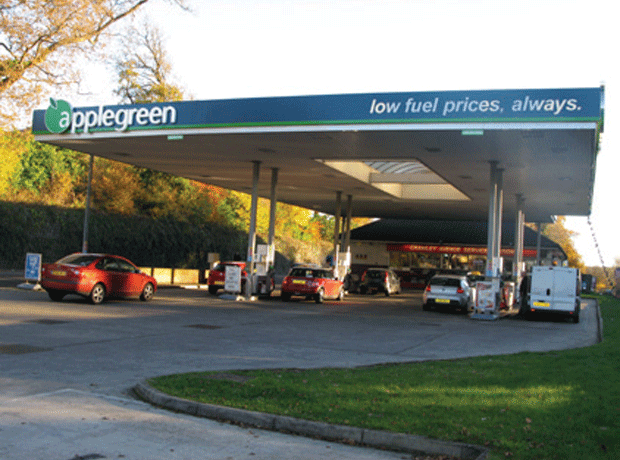 Newly listed Irish forecourt operator Applegreen saw revenues rise by 16% in its first interim results as a listed company, boosted by a 9% rise in like-for-like non-fuel sales.
The firm, which listed on the London stock exchange in June, saw group revenues grow to €517m during the six months to 30 June. Adjusted EBITDA grew by 42% to €10.7m, with gross profits rising 35% to €56.9m, or 30% on a constant currency basis.
Overall like-for-like shop and food sales grow by 9%, with like for like gross profit up by 13% thanks to rebranding activity and an improving economic backdrop.
During the period it grew its estate from 152 sites to 175 as at 30 June 2015.
Bob Etchingham, CEO said: "Growth was evenly spread across both the Republic of Ireland and the UK, with the latter's contribution also benefitting from the strength of sterling against the euro during this period."
In its core Republic of Ireland market revenues increased by 12% and gross profit increased by 25%. Like for like store and food sales increased by 5% and like for like gross profit increased by 7%.
In the UK, revenue increased by 21%, with gross profit increasing from €9.6m in the first half of 2014 to €15.6m in the corresponding period this year. Like for like UK stores and food sales increased by 5% (on a constant currency basis) while like for like store and food margin increased by 16% (constant currency).
Applegreen opened its first motorway service area in the UK during this period, just north of Belfast in Northern Ireland. In total, five sites were rebranded in the UK during the period with the upgrade incorporating one or more branded food offers.
Analysts at house broker Shore Capital called the financials an "excellent set of maiden interim results", commenting: "We are encouraged by Applegreen's strong start to FY2015, and today's results provide us with additional conviction that the group can deliver very strong medium profit and earnings progression, augmented by high returns across its various formats."
Shore added, however, that the results are "somewhat flattered" by a weak fuel comparative which toughens in the second half of the year.
As a result, Ethcingham acknowledged second half growth would slow, but said: "Trading since the end of June has been positive and while we expect the rate of growth in H2 to be lower than H1, we are on track to deliver results in line with market expectations."