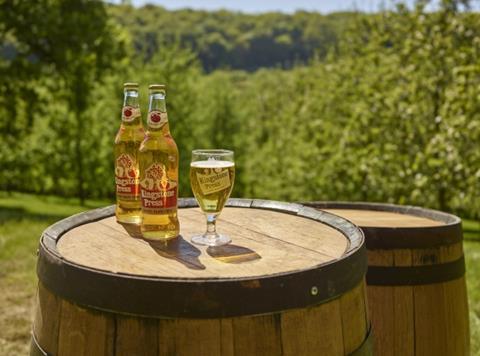 Aston Manor Cider performed "ahead of expectations" this year following five years of investment.
Revenues were up 4% to £113m for FY16/17, while EBITDA stood at £8.2m - down from £8.7m in FY15/16, according to the Midlands brand's full-year results. It posted pre-tax profits of £4.4m, down from £5.2m the previous year after heavy investment.
The figures demonstrated that Aston Manor was "back on track with its plan to consolidate and broaden operations", having invested more than £30m into the business over the past half a decade, the business said.
Investments included the planting of an additional 400,000 trees, which were expected to contribute to the autumn harvest, and a new research & development facility that would help "drive innovation" in NPD such as cans and mini-kegs, which it recently launched craft cider Friels Vintage into.
Aston Manor had also invested in production facilities that meant the brand now had "the capability and capacity to accelerate performance as the scale of future investment reduces", it said.
"We regard being responsive and nimble, even with our scale, as absolutely essential," added chief executive Gordon Johncox. "Hence, investment has focused on developing our manufacturing and packaging capability as much as expanding capacity."
Although the cider industry faced challenges, the brand was "confident" it would continue to make progress, said Johncox.
Aston Manor's flagship Frosty Jack's cider had £4m (9.2%) wiped from its value over the past year, but still racked up sales of £40m [IRI 52 w/e 25 March 2017].