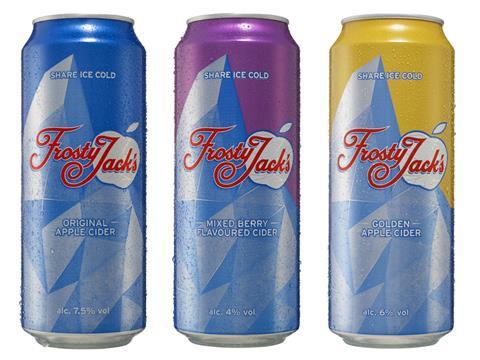 A declining UK cider market has taken the fizz out of sales at Frosty Jack manufacturer Aston Manor. Revenues slipped 4% to £123m in the 12 months ended 31 December 2014, the first time in eight years the top line has fallen back. Pre-tax profits were also hit, falling from £8.2m in 2013 to £6.9m.
However, MD Gordon Johncox said the "modest decline" in 2014 sales meant Aston Manor fared better than the total cider market.
"We have worked hard and invested significantly over several years and without question I believe we are better placed than any other cider maker to continue to grow and develop the cider category – both for retailers and for our own brands," he added.
Aston Manor produces more than 1.5 million hectolitres of cider a year, from the mainstream Frosty Jack's to Malvern Gold and organic cider for Duchy Originals, as well as supplying supermarkets with own-label products.
The brewer has invested significantly in its production facilities in the past six years, with sales growing rapidly in that time, soaring from £53m in 2009. A new 84,000 sq ft warehousing and distribution hub was opened in Birmingham in 2014 and it created a new fruit processing facility at its Stourport-on-Severn site in 2013.
"In the last six years an ambitious investment programme in production facilities, our ability to develop new products and in securing our fruit requirements through new orchards has transformed our business," Johncox said.
"Some £30m has been spent to increase the capability and capacity of our facilities. Conservatively, the new planting scheme we are embarking on will also mean a further £50m invested over the next 25 years."
Volumes in the overall UK cider market declined by 0.6%, with 2.4 million fewer litres sold at the supermarkets, pushing down value 0.3% to £735.1m [Kantar Worldpanel 52 w/e 29 March 2015].