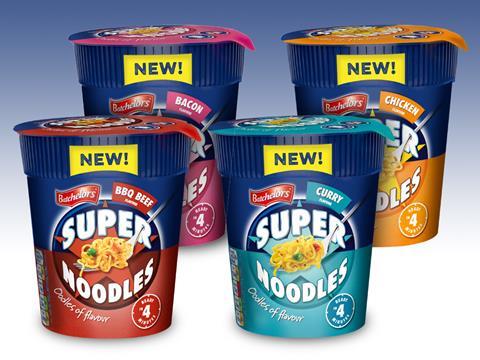 Batchelors Super Noodles pots have "exceeded expectations" since hitting shelves last year, helping propel Premier Foods into its strongest growth in five years.

Premier Foods has sold over 13 million pots of Super Noodles since launching them in February 2017 as part of its partnership with Japanese instant noodle giant Nissin Foods, it revealed this week.

Having secured listings across the major mults, the NPD had "exceeded our sales forecasts to the point sometimes where we have been short of stock from Nissin" CEO Gavin Darby told The Grocer.

The launch sparked an instant hot snack war with rival Pot Noodle, which responded by launching a range of Pot Pastas in July 2017. In the same month, Batchelors put its Pasta 'n' Sauce range into a pot format and the brand is now in double-digit growth, having previously been in decline.

"It's one of our biggest brands and has seen quite steady decline, at around 12% at one point, and we now have it up 11% for the year and it was accelerating," said Darby.

Premier Foods, which also launched Nissin's Soba Noodles brand in the UK last year, announced on Tuesday (15 May) it had delivered its "strongest performance for over five years", with revenues up 3.6% across the financial year ending March 31.

Over half of that growth (55%) came from its strategic partnerships with Nissin and Cadbury owner Mondelez International, said Darby, who hinted at plans to expand both.

"There's a lot more growth in both of those - we've just started on them. Mondelez is a big growth opportunity outside the UK, and Nissin in the UK."

Earlier this year, a debt-laden Premier Foods strongly rejected rumours it was exploring a £200m deal to sell the Batchelors brand to Nissin.