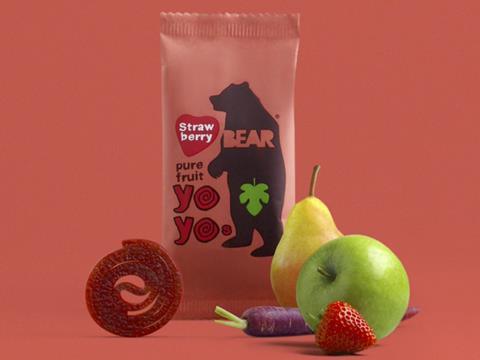 Fruit snacking brand Bear has seen a reversal of its rapid growth as fierce competition and lower-priced rivals have stunted sales.
The brand, bought by Lotus Bakeries in December 2015, reported a 2.3% fall in sales to £32.6m in 2018, compared with growth of 17% in the previous year.
New accounts for Bear owner Urban Fresh Foods said sales were hit by increased competition in the fruit snacking sector, with spend moving towards lower-priced products and bigger brands running "deeper and highly visible promotions".
A Bear statement said there had been an increased focus from UK retailers on driving volumes through products on secondary space, with more traditional brands securing much of this space. "This has translated into reduced secondary display and impacted promotional volumes," the company added.
Bear said it expected to post increased sales "over the next 18 months as our new strategy starts to take effect".
The accounts show a 5.8% slump in UK sales in the period, mitigated by 43% growth in international sales to £3.4m.
"The enthusiasm for the brand internationally – particularly the growth coming from the USA – gives us the confidence that there is significant headroom for sales success internationally, so it is about striking a balance in terms of our focus both in the UK and abroad," Bear said.
Despite the sales fall, operating profits rose 6.3% to £3.3m as it benefited from a n ongoing cost reduction programme.
Elsewhere, fellow Lotus owned healthy snacking brand Natural Balance Foods posted growth of 9.3% to £41.8m in 2018.
The Nakd and Trek owner posted strong growth in the grocery sector despite "the challenges that the economy has faced over the last year".
Sales growth was 10.3% excluding customer discounters.Lotus' more recent half-year report said Natural Foods "experienced strong growth once more", supported by the launch of its first TV marketing campaign in the UK, the Netherlands and Belgium.
In the first half of 2019, Bear experienced strong growth in its penetration and turnover internationally, particularly in the US, through increased distribution in traditional retail channels.