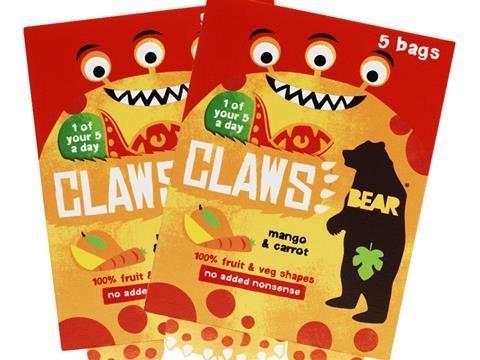 Snack brands Bear and Urban Fruit recorded another year of healthy growth in the run up to being snapped up by Belgian bakery Lotus for £71m, as parents looked for easy ways to get their kids to eat fruit.
Sales jumped 37% to £22.5m and operating profit by 30% to £2.4m in the year to 31 October 2015 as the Bear's Yoyo fruit range remained in strong demand, newly filed accounts of parent Urban Fresh Foods reveal. However, growth slowed from the 72% rise recorded in the previous year.
Giles Brook, who runs the business with founders Hayley and Andrew Gait-Golding, told The Grocer innovations such as Claws and Paws had played a part in driving growth, with 25% of turnover coming from NPD.
"In a world increasingly dominated by promotions, we are seeing a huge rise in base rate of sales, with margins coming through very well thanks to lots of cost of goods savings," he said.
Urban Fresh was the clear number two branded player at the end of year in the dried fruit and fruit snacking category, with Bear the largest kids fruit brand by "some margin" and a 27.3% share, Andrew Gait-Golding said in the accounts.
Bear's growth has been at the expense of nearest rival Fruit Bowl, which has just been sold to Pioneer Food Group (see below). Value sales have declined 38% at Fruit Bowl compared with a 20% rise at Bear in the 52 weeks to 18 June 2016 [IRI]
"Consumers are increasingly looking for natural products with easily understood health benefits – Bear and Urban Fruit have been well placed to capitalise on these trends," Gait-Golding said.
Brook added growth rates in the current year and since the Lotus takeover in December had continued to be strong, with expansion in Europe and the Middle East set to accelerate.
Overseas sales accounted for just 3% of revenues in 2014/15, with the brands in five countries, but Brook said a US launch was planned at some point in next 12 months.
"We have Lotus infrastructure already over there to help us get the plans right from an early stage," he added. "It will be a strategic launch, with a state-by-state approach rather than nationwide."
Brook said there was not a huge fall out for Urban Fruit from Brexit in currency terms as most of the trade is in sterling. He added the newly bolstered buying power which comes from being part of Lotus would also help offset any currency moves going forward as the business expands internationally.