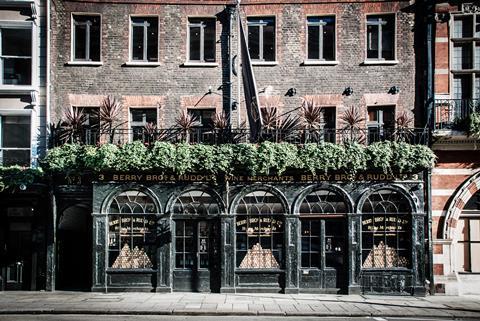 Fine wine merchant Berry Bros & Rudd saw a further increase in sales over the festive period on top of a bumper 2020, with sales up a third on pre-pandemic levels.
Overall sales and customer numbers saw it maintain the growth it had experienced since the start of the pandemic as consumption shifted away from pubs and restaurants into homes.
Sales increased by 2% year on year and 33% against the pre-pandemic festive period, 2019.
Total customer numbers were up 38% against 2019.
Online sales were up 13% year on year and 107% on 2019, while average online order value increased by 19% compared with 2020.
Sales for BBX, Berry Bros & Rudd's leading online fine wine exchange, were up 25% versus last year.
"We have worked very hard to fix the basics for customers, including improving our online operation," said CEO Emma Fox. "We are pleased to see the results coming through in such strong online sales for this period and are delighted to have maintained the overall growth momentum across the business from the last two years.
"We hope to continue this growth as we begin the Burgundy 2020 En Primeur campaign this week. We anticipate continued demand for the new releases and high interest for our fine wine offer."
Sparkling fine wines dominated the bestsellers, with Berry Bros & Rudd Own Selection Champagne Mailly Grand Cru seeing sales increase by 62%.
Despite the recent Covid variant affecting West End footfall, customers continued to visit the London shop, with in-person orders up 69% on last Christmas.
The group's annual accounts for the year to 31 March 2021 showed an uptick in annual sales of 1.7% to £224.3m, excluding en primeur adjustments, driven by strong underlying trading.
However, its statutory loss before tax rose from £593k to £8m due to £9.5m of exceptional charges related to the scaling back of its agency business, notably closing its BB&R Wholesale operations and downsizing FM&V by removing spirits and reducing its wine portfolio.
The accounts stated: "The past year has seen the business refocus on its core fine wine and spirits brands business.
"The reorganisation plus the completion of our successful refinancing means the business is in a strong position for sustainable growth ahead."
Its July 2020 refinancing of its banking facilities has underpinned investment in a new warehouse for customer private reserves and investment in customer technology and digital operations.