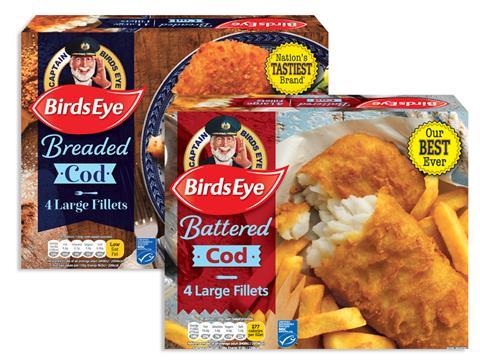 Birds Eye and Findus owner Nomad Foods recorded a loss in the fourth quarter of 2016 but the decline in the UK market slowed as the group battled to turnaround its performance in the challenging frozen market.
Revenues in the final three months of the year were €485.2m, compared with €475.9m 12 months earlier, but exceptional items of €22m, including costs related to the acquisitions of Findus, pushed Nomad to an after tax loss of €2.1m.
EBITDA in the period was £39.5m, compared with €42.2m in 2015, as Nomad invested heavily in advertising and promotions to support its recovery plan, spending £37m in the quarter, £10m more than a year earlier.
Nomad, which completed the £500m to buy the European arm of Findus in November 2015, said if it added in Findus sales for October 2015 then revenues for the final three months of 2016 were down 7% from €520.8m the year before.
Like-for-like sales declined 2.7% after adjusted for currency movements, which was a further improvement on the rate of decline in the third quarter and a "significant" improvement on the same quarter in the prior year.
The group's German division grew like-for-like sales 6% in the quarter and the UK and Italy saw reduced rates of decline year-on-year.
Nomad CEO Stéfan Descheemaeker said like-for-like sales had moved into positive territory in the first quarter of 2017, which he called "an encouraging development".
"2016 marked an important milestone for Nomad Foods," he added. "We made meaningful progress against our objectives: firstly, stabilising sales by progressively slowing the rate of decline in the top line through the execution of our 'Must Win Battles' strategy, secondly, delivering on our synergy commitments from the Findus acquisition, and thirdly, generating strong cash flow to drive consolidation within the global food industry."
Full-year revenues were €1.9bn, a 6% slump on €2.1bn in 2015 when including Findus, and adjusted profit for the year was down 2% to €155m. The decline in top line was driven by the group's three largest markets: the UK, Italy and Germany.
Birds Eye revenues slumped 7% in 2015 to £415.3m, wiping £31m from the top line, as the supermarket price wars harmed brands in the frozen category, according to the latest accounts available from Companies House.
Nomad Foods, created in 2014 by US tycoons Martin E. Franklin and Noam Gottesman with ambitions to become a global food group, acquired Birds Eye owner Iglo Group for €2.6bn (£1.8bn) as its anchor investment in April 2015 before bolting on Findus later that year.
Descheemaeker said today that the improving performance of the group left it in a position to consider strategic acquisitions in 2017.
Co-chairman and founder Noam Gottesman added: "We look forward to growth during 2017, as we continue our journey to build a leading, global consumer foods company."