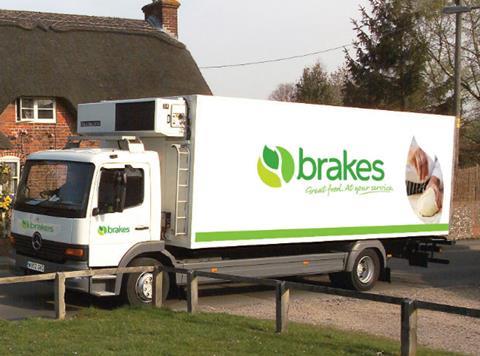 Delivered food wholesaler Brakes has posted its first financial accounts under the ownership of US food distribution giant Sysco, with the results for the 18 months to 1 July showing a healthy rise in sales, but profits were down 30% pro rata as the business comes under pressure from rising costs and multiple changes in its leadership team.

Brakes has not posted financial accounts since the 12 months to 31 December 2015 as it has changed its reporting period since Sysco bought it for $3.1bn in February 2016.

Total group revenues, which include operations in Europe, rose to £6bn in the 18-month period from £3.3bn in the previous 12-month financial year - a pro-rata rise of 21%.
Gross profit margin remained relatively stable, edging down from 6.7% to 6.6% as gross profit totalled £394.4m compared to £219.7m in the previous accounts.
However, a huge jump in operating costs meant operating profits edged up to £65.4m from £61.9m despite the longer reporting period, a pro-rata decrease of 30%.
The drop is attributable to a huge jump in administrative expenses, which rose to £215.8m from £90.8m, and a rise in exceptional items to £85.9m from £48.6m.

Brake Bros recorded £35m of restructuring costs, mainly related to the restructuring of its UK business and distribution network, , as well as £47.7m of transaction fees relating to the Sysco acquisition and its buyout of Fresh Direct and Davigel.
Statutory profits for the 18 month period were £40.4m, which was lower than the £51.6m reported in 2015, but the latter figure has been restated to £33.8m due to an over-charging of interest in the period.
Sales in its UK & Ireland operations were up 55% to £3.5bn, while Continental Europe sales jumped 188% to £1.7bn.
The proportion of non-UK sales in the Brakes Group increased from 31% to 41% of total revenues.
Brakes has undergone a number of leadership changes under Sysco's ownership, with CEO Ken McMeikan standing down in April 2017 and UK CEO Ton Christiaanse leaving after just nine months in the role in November.
Hugo Mahoney was been appointed Brakes UK CEO in March 2018, while McMeikan was replaced by vice president of Sysco Ajoy Karna.

Sysco declined to comment on the Brakes accounts. However, in November, Sysco said its European operations "had a challenging quarter, as we are investing in our Brakes Group acquisition in a macroeconomic environment that remains sluggish".
In its most recent quarterly trading update in February it acknowledged gross profit and expenses came under pressure in Europe as it "continues to invest in our transformation initiatives."
An industry source suggested the current financial year could also prove tough, given the cold UK weather in early 2018 and the loss of contracts as the casual dining sector adjusted to inflationary pressures.