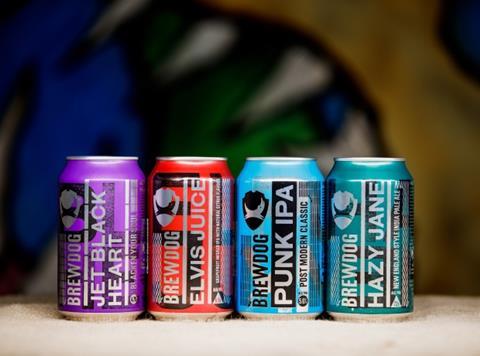 BrewDog has posted record half-year results, heralding a period of "substantial growth" for the booming craft beer maker.
Total revenues at the brewer - the UK's 13th-biggest beer brand - hit £78m over the six months to 30 June 2018, a 55% increase on the same period last year, its latest financial update reveals.
UK retail sales grew 83%, while revenue from BrewDog's fast-expanding bar division almost doubled, growing 92%, which had generated an incremental £10m so far in 2018.
BrewDog's on-trade success had been boosted by ongoing partnerships with JD Wetherspoon and Greene King, the brewer said. These had added 1,200 distribution points for Punk IPA, while in the off-trade Morrisons and Tesco had added 1,900 and 6,000 distribution points respectively in 2018.
The BrewDog brand was "at one of the most exciting and pivotal junctures in our existence" said co-founder and CEO James Watt. "We've established a solid and rapidly growing presence in the UK, and the demand from Europe shows no signs of waning."
The results come as BrewDog is significantly increasing its presence in global markets, with a 100,000hl brewery having opened in Columbus, Ohio, last year and a 50hl brewery in Brisbane, Australia under construction. Plans are underway to build a facility in China "to meet local demand".
Export volumes for the half-year were up 35% to 70,000hl, with export revenues rising 32% to hit £11m.
"We're making significant inroads in Asia and Australia, which I believe will begin to bear fruit in 2019," Watt added. "Our US business is expanding at breakneck speed with new distribution points added every week."
The half-year figures were "great, but we won't rest on our laurels" he said. "There is much work still to do to change minds and bring more people into the craft beer revolution around planet Earth."
However, the financials come after a calamitous fortnight for BrewDog, which saw a defect at its new sour beer facility, OverWorks, render thousands of its newly-bottled sour beers unfit for sale.
On BrewDog's blog, Watt explained that bespoke 500ml bottles were breaking at OverWorks during 'routine handling'.
The brewer dumped the entire stock of bottled OverWorks beers, which had cost 'hundreds of thousands of pounds worth of stock and six months' worth of production time' as well as 'heartbreak and genuine disappointment in those who have worked so hard to get these beers ready', Watt wrote.