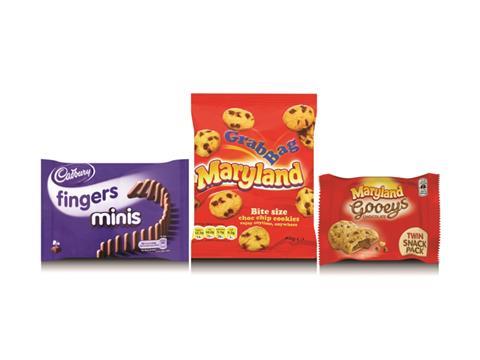 Wagon Wheels manufacturer Burton's Biscuits suffered a sharp drop in sales in its first year under Canadian ownership, as its attempts to grow through acquisitions were thwarted.

Sales dropped by 6.3% to £314.9m in the 53 weeks to 3 January 2015 amid a "tumultuous year in UK grocery", Burton's newly filed accounts at Companies House show.

Adjusted EBITDA fell by 9% to £36.9m as UK and international sales slumped. UK branded market share slipped to 7.8% from 8.1% in 2013.

Burton's, owned by Ontario Teachers' Pension Plan since November 2013, has previously stated its intention to expand into new categories and geographies through "synergistic bolt-on M&A", but failed in its attempts to buy UK snacks giant United Biscuits last year.

The accounts of parent company Frontier Midco show its failed pursuit of UB was responsible for the majority of £7.6m in exceptional costs related to strategic initiatives to grow the brand.

The parent company recorded a recognised loss of £47.5m during the period - including a £40m actuarial loss related to its pension scheme, taking its pensions deficit to £92.2m - £14.6m of interest payments and £25m of combined depreciation and amortisation.
Trading arm Burton's Foods Ltd reported pre-tax profit down 13.9% to £19.2m. UK sales fell 4.6% to £273.3m while non-UK sales fell 16.1% to £41.7m, meaning its proportion of international sales dipped from 14.8% to 13.2%.

Burton's said the biscuit sector "was not immune" from the weakest UK spending growth in over 20 years and falling sales and profitability across the big four supermarkets.
It said UK biscuit sales were down 2%, primarily driven by a 3% decline in sweet biscuit, though the savoury segment continued to grow, boosted by its Fish 'n' Chips and Cathedral City Baked Bites launches. Overall sales were dragged back by the "managed exit of a number of low-margin retailer branded and contract manufacturer contracts" as well as a "modest" decline in branded sales.
In a statement to The Grocer, Burton's said: "Burton's Biscuit Company has performed well in what has been a challenging year for the biscuit sector. Our savoury division has shown strong performance, with market share increasing from 0.5% to 3%. With this foundation for growth, we are positive about the business' direction and will continue to focus on driving sales both internationally and in the UK."
Burton's expects conditions to remain "highly competitive" but expects to post better numbers this year. "We remain confident that both revenue and earnings will increase in 2015 driven by the launch of the number of great innovative new products and targeted overseas expansion".
As well as missing out on UB, which was bought by Yildiz Holding for £2bn last November, Burton's was understood to be in the running for snacks brand Nakd, but a majority stake in owner Natural Balance Foods was bought by Lotus Bakeries in August.
One City source expected Burton's to continue to aggressively pursue M&A opportunities in the sector. "Teachers don't want to just sit there with just Burton's; they want to use Burton's as a launchpad to a bigger business."