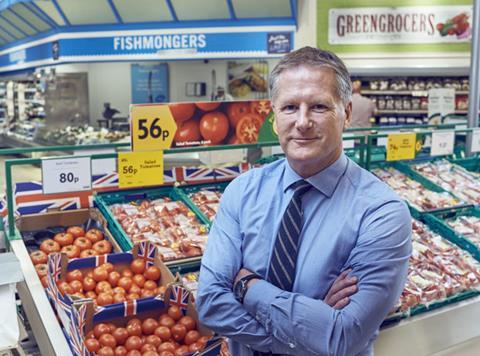 Morrisons boss David Potts insisted today the retailer was better placed than most to ride out the Brexit storm.
It's true that with two thirds of Morrisons' food produced in Britain, other supermarkets will have been watching much more closely yesterday to see whether Kent police can prevent Britain's main port becoming a giant lorry park.
In other ways though, Morrisons' results and Potts' typically no-nonsense summary are a good barometer of just how brutal the backdrop is for the UK's supermarkets going into 2019 – and how hard they're working to keep the figures going in the right direction.
With its retail sales creeping up by 0.6%- 3.6%, including its ever-more important wholesale contributions, this was a fourth consecutive period of Christmas growth for Morrisons, one of the shining lights of the past few years under Potts' leadership.
Most analysts regard that as a solid performance – but it doesn't necessarily make for a rosy outlook.
Morrisons' chief pointed to what he called a "change in consumer behaviour" since the "spend-up summer" of 2018, which saw Morrisons basking in its best quarterly performance for nine years during the heatwave and England's World Cup performance.
In stark contrast, and despite something of a last-minute spending spree in the final weekend before Christmas, the figures for the past six weeks show consumers reigning in their spend amid anxiety over Brexit, says Potts.
Morrisons eked out the growth thanks to a much-improved performance in customer service as well as its canny pricing on staples – such as its three for £1 Christmas veg which saw sales up 10%, weighing in at an amazing 10,000 tonnes.
Yet Potts admitted it had been harder going on more premium lines as customers thought twice under the clouds of political and economic uncertainty.
Many, he said, had instead of a traditional trade-up to more premium items been filling their festive baskets with "mid-tier own-brand" items.
That will no doubt pose questions for Morrisons, which this year brought in 40 new premium lines for Christmas. The battlefield with other supermarkets looks more likely to be fought on that mid-range own-label tier in 2019.
And that already appears to be the case given the opening shots of this year's price battle. Yesterday the Bradford-based grocer kicked off proceedings with cuts of 20% across more than 900 items, whilst Tesco fired the gun on its latest wave of reductions, coinciding with an ad campaign to mark its 100th anniversary.
How sustainable those cuts are, and whether they will continue to help supermarkets like Morrisons squeeze out further sales growth is, a bit like the outcome of next week's political events, impossible to call.
Asked if there was light on the horizon, Potts said whether there would be another heatwave was "anyone's guess", acknowledged 2019 will not see a World Cup (at least not with a round ball) and that nobody, least of all politicians, has any idea what will happen with Brexit.