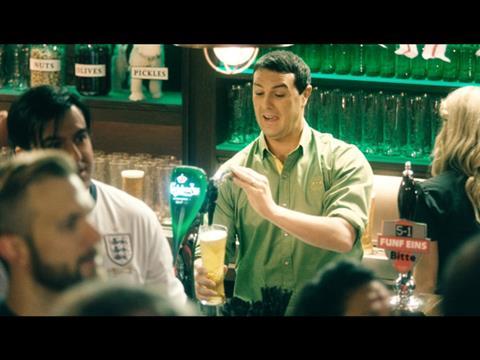 Carlsberg's UK business grew about 1% last year on the back of a growing off-trade business, the Danish brewer has reported.
The brewer of Kronenbourg and Tuborg lost UK market share, however, partly because it decided not to participate fully in various promotional activities during the year.
The Summersby cider brand, which achieved particularly strong growth in the UK, was the fastest growing cider brand among the top-10 biggest ciders globally. The overall flat UK market was in contrast to the majority of markets in Western Europe and Asia where market share increased.
Group beer volumes declined organically by 3% globally because of performance in Eastern Europe.
The international premium portfolio continued to deliver strong growth: Tuborg (+24%), Somersby (+43%), Kronenbourg 1664 (+9%) and Grimbergen (+27%). The Carlsberg brand grew 1% in its premium markets
Overall fourth quarter net revenue fell 6% to DKE 14.3bn (£1.4bn) while operating profit fell 22% to DKE1.8bn.
The company said it would mitigate currency devaluation in Russia and the Ukraine in its planning for 2015 by taking tough decisions aiming at further improving cost-effectiveness, while also continuing to invest in brands and longer-term capabilities for competitiveness.
Jørgen Buhl Rasmussen, president and chief executive, said: "In 2014, we had clear priorities and focus on execution, enabling us to deliver strong organic performance in Western Europe and Asia which more than offset the market challenges in Eastern Europe.
"For 2015, we'll continue to support and invest in our brands and markets to capture the long-term opportunities in our regions, but in response to the current situation, we've built a strong operating plan, which includes changes to our business model, with the aim to achieve further efficiency improvements faster."
Rasmussen, who is retiring, will be succeeded by Cees't Hart, currently chief executive of Royal FrieslandCampina, one of the world's largest dairy companies.