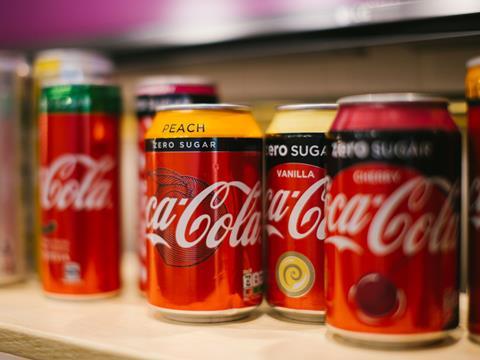 Top story
The Coca-Cola producer for the UK and Europe has secured a listing on the main market of the London Stock Exchange.
Coca-Cola European Partners (CCEP) is already listed on the New York Stock Exchange, Euronext Amsterdam index and on the Spanish stock exchanges.
The world's largest bottler of Coca-Cola drinks will thus be delisted from the Euronext London market, as part of a move which will "increase visibility" and improve access for investors, the company said.
The company, which markets, produces and distributes the products across the continent, was created in May 2016 following a combination of the three biggest Coca-Cola bottlers in Europe.
Last year, CCEP generated €11.5bn in sales and operating profit of €1.6 billion, operating across 13 countries in Western Europe.
"The formation of CCEP was always about a bigger and bolder vision beyond the merger," commented Damian Gammell, CEO at CCEP.
"Three years on, we are building a sustainable company on three pillars: great beverages, great service and great people. We feel this is the perfect time to move our UK listing to London Stock Exchange.
"We have a solid track record and we operate in the large and growing Western European non-alcoholic ready to drink market, where we have a leading position with the world's best brands."
Nik Jhangiani, CFO at CCEP, said: "We believe we have an attractive and exciting investment story, as we continue to expand our total beverage portfolio while strengthening core capabilities that will drive sustainable success,"
"By joining Europe's leading stock exchange, we seek to increase visibility of our story alongside improving market access for investors, thereby enhancing liquidity."
Nikhil Rathi, CEO, London Stock Exchange said: "We are delighted to welcome Coca-Cola European Partners, the world's largest Coca-Cola bottler, to London Stock Exchange today.
"CCEP's decision to list on our main market to enhance liquidity and investor access further underlines our attraction as a global listing venue, offering companies access to the deepest pool of international investor capital."
Morning update
Suffolk brewery Adnams slumped to pre-tax loss in 2018 despite a jump in sales, as it was impacted by "one off costs".
Exceptional costs, including outsourcing the filling casks for a few months while it installed a dealcoholisation plant, led to a £181k pre-tax loss for the year ended 30 December 2018, falling from a £2.1m profit in 2017.
The slump in profitability came despite a 5.6% increase in turnover to £78.9m, as it was buoyed by the first full year operating from its expanded brewery and the transformed Swan hotel.
However, the brewer's performance was dampened by a 9% slump in cask ale volumes, while total on-trade beer sales rose a modest 0.1%.
The brewer lauded a "strong increase" in premium lager sales in both the on-trade and off-trade.
It also noted the growing interest in low and no alcohol beers as a positive trend for the business, with growth for its Ghost Ship 0.5% brand. The "success" has seen the brewer invest to double its production capacity for the beer.
The supplier's spirits arm, which produces Adnam's Copper House gin, blamed a "very crowded market" for slower-than-expected sales growth of 2.4% during the year.
"Those writing forward-looking statements at this time no doubt share an uneasiness as to how the future will look," commented Jonathan Adnams.
"For businesses, this uncertainty makes planning very difficult. However, Adnams has the advantage that it is primarily a UK-based business and whilst we have plans to secure necessary imports and to continue the growth of our export business, our main concerns relate to consumer confidence and availability of suitably skilled staff including those in our wider supply chain and customer base.
"We are well placed for the future, uncertain as it may be, and we will continue to keep our focus on our long-term success."
This morning, the FTSE 100 opened higher, rising 0.7% to 7,241pts, while attentions focus towards the continuing Brexit uncertainty.
The early risers this morning include Bakkavor (BAKK), up 4% to 119.6p, Fevertree drinks (FEVR), up 3.7% to 3,019p, and Imperial Brands (IMB), up 3% to 2,637p.
The early fallers include Devro (DVO), down 2% to 196p, Hilton Food Group (HFG), down 1.5% to 900p, and Premier Foods (PFD), down 0.9% to 35.3p.
Yesterday in the city
The FTSE 100 ended the day lower, down 0.3% to 7,194p, after an up-and-down day driven by uncertainty as the market waited for last night's Brexit vote.
Posh mixer maker Fevertree Drinks (FEVR) led the pack, rising 7.8% to 2,912p, after revealing 40% sales growth for the past 12 months in its Tuesday trading update.
The day's other big risers included Carr's Group (CARR), up 3.5% to 140.7p, Restaurant Group (RTN), up 3.4% to 116.7p, and Premier Foods (PFD), up 2.4% to 35.6p.
Meat supplier Hilton Food Group (HFG) finished the day lowed, down 2.8% to 914p, despite posting a 21.5% sales rise and a 22.2% jump in pre-tax profits.
The FTSE 250 food group rose to £1.6bn in sales for the year to 30 December 2018 as it was buoyed by the integration of Seachill, which it acquired in October 2017.
Other fallers included Real Good Food (RGF), down 4.2% to 5.7p, Majestic (WINE), down 3.3% to 219.5p, and Finsbury Food Group (FIF), down 3% to 65.5p.