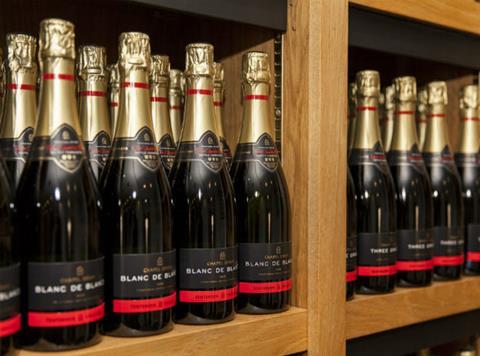 Kent wine and craft beer producer Chapel Down has said it was left "untouched" by uncertainty following the EU referendum and enjoyed "excellent" growth last year, according to full-year results published this week.

The company's year-on-year sales rose 25% to £10.2m for the year ending 31 December, up on £8.2m in 2015.

Wine sales rose 22% to £6.8m, while beer and cider sales from associate business Curious Drinks rose 32% to £3.4m, up from £5.6m and £2.6m in 2015 respectively. EBIDTA was up 72% to £750k, compared with £435k in 2015.

"The uncertainty following the EU referendum has had no real impact on our business to date," said Chapel Down chairman John Dunsmore.

"We would be affected, like all agriculturally based businesses, if we were not able to access EU workers for our viticulture and the expertise in winemaking available in Europe.

"However, maintaining and developing a strong brand with high-quality people is our best defence and we will continue to invest to ensure we are well placed."

Progress had continued into the first quarter of 2017 and the company was "pleased" with growth in wine exports, in particular to the US, he said.

"We remain appropriately optimistic about continuing growth in sales in 2017."

Dunsmore partly attributed growth in beer and cider to success in the "premium off-trade" where he said Chapel Down had attracted "aspirant customers".

The construction of a new Curious Drinks brewery and visitor facility in Ashford, which is expected to begin brewing in 2018, would be a further stimulus for growth in the division, he said.

"Craft beers are growing very fast, driven by more flavoursome beers that are the antidote to bland international brands that have become overly dominant," said CEO Frazer Thompson.

"There is a vibrancy and excitement to the UK beer market, fuelled by spectacular success in the USA which is spreading internationally," he added

In wine, the company was "confident" in the branding and positioning of its products and was in the process of developing long-term export opportunities, said Dunsmore.

"The nature of wine means that we must manage the growth rate to ensure we do not over-extend our distribution.

"This ensures we maintain our premium profile and good relationships with our distributors and retailers."

Additionally, a new storage, disgorging and dispatch warehouse in Ashford would release space for further winemaking capacity at the company's Kent vineyard, he added.