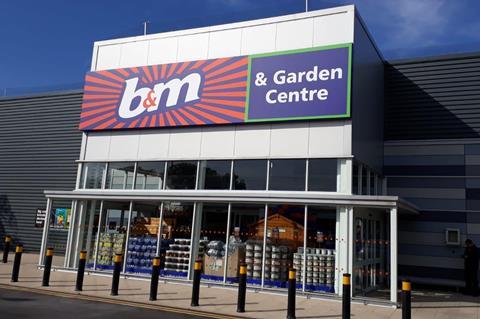 Top story
Revenues at B&M have jumped 6.6% to £5bn as cost-conscious shoppers turned to discounters to help manage the cost-of-living crisis.
The increase in the 52 weeks to 25 March came despite the group lapping strong growth over the last two year, leaving sales 30.7% ahead of pre-pandemic levels.
Like-for-like customer transactions have increased every month since June in the UK, with revenues in the country up 4% year on year, which was mostly driven by new store openings.
B&M now has 70 stores in the UK, opening 21 in the year and closing or relocating 15 sites.
The group's discount frozen food fascia Heron Foods bumped up sales by 18.1%, while its turnover in France rose 22.1%.
Despite the boost to the top line, group adjusted EBITDA came down from Covid highs of £619m to £573m - significantly ahead of pre-pandemic levels of £342m. Group pre-tax profits also fell from £525m to £436m.
CEO Alejandro Russo said it had been "another year of strong underlying progress" for B&M and added that the long-term future looked "very positive".
Russo, who took over from Simon Arora in September, said: "B&M has many years of profitable growth ahead, to be delivered through our four channels of growth (existing B&M UK stores, new B&M UK stores, France and Heron) and in delivering this growth, B&M will generate cash and compound earnings growth for our shareholders.
"We are actively responding to the short-term pressure on consumers from the cost-of-living crisis, with a relentless focus on price and value. A strengthened management team and the hard work of our 39,000 employees executing our unchanged strategy will help us deliver in the current financial year.
"We expect to grow sales and profits in FY24, despite economic uncertainty."
B&M added it expected further like-for-like growth in existing stores in the new financial year, with plans to open a further 30 shops in the UK, about 10 in France and around 20 Heron Foods stores.
In the first nine weeks of FY24, B&M UK like-for-like sales hit a run rate of 8.3%, while momentum continued in France and at Heron Foods. The group forecast that full-year adjusted EBITDA would be higher than FY23.
Shares in the group leaped 4.5% higher to 493p on news of higher projected profits this year.
Morning update
Own label ranges in supermarkets are outpacing branded growth as shoppers battle to manage soaring food prices, according to the latest data out this morning from NIQ.
During 2023, own label products have registered a substantial growth rate of 14.1%, surpassing the 7.1% logged by brands, helping the volume share of own label climb to 63.3% of all fmcg sales in the past four weeks, a jump from 62.1% in 2022.
Supermarkets lifted total till sales by 12.3% in the four weeks to 20 May as the UK celebrated the Coronation, rising from 9.7% in April.
Volumes still declined -2.6% but continues to slowly improve from a low of -6.9% recorded in January.
"Inflation has been a significant drag on shopper spend, so this year, incremental sales are reliant on a short-term boost from well-activated events rather than regular promotional activity," said Mike Watkins, NIQ UK head of retailer and business insight.
"With 27% of households saying that they buy extra or special items to celebrate an event or occasion, this will have helped many prioritise spending for the Coronation in early May."
He added: "With warmer weather coming up towards the end of May, we can expect to see a further lift to sales in June, particularly at convenience stores where 30% of households now say they shop at once a week or more.
"The advantage for retailers is that shopper mobility tends to increase over the summer, and with 82% of consumers buying food on the go, this is another reason to visit a store. While some parts of the hospitality industry are facing headwinds, there remains a strong consumer demand for dining at home, and shoppers are indulging themselves through quick grocery delivery and enjoying meals and snacks from a diverse range of rapid delivery platforms like Just Eat, Uber Eats, or Deliveroo.
"Many shoppers are still looking for a special treat now and again, despite the challenges of inflation."
WH Smith has lifted its forecasts for the year as its travel business continued to boom ahead of the peak summer season.
Total travel revenues in the 13 weeks to 27 May soared by 31% year on year, with like-for-like growth of 18%.
The UK side of the travel division grew by 21% on a like-for-like basis, driven by category expansion, a focus on average transaction value, the travel essentials one-stop-shop format and the ongoing recovery in passenger numbers.
In North America, WH Smith registered growth of 26% in the period and like-for-like growth of 5%, while the rest of the world was up 79% and by 39% on a like-for-like basis.
Meanwhile, like-for-like growth on the UK high street was more modest at 3%, helping the group register total like-for-like revenue growth in the quarter of 14%.
"Looking ahead, the group is in a good position as we approach the peak summer trading period," WH Smith said in the trading update.
"Trading is strong across all three travel divisions, and we are very well positioned to capitalise on the substantial growth drivers across our markets.
"Since our announcement on the 20 April, our expectations for the full financial year have modestly improved."
Prepared foods manufacturer Bakkavor has made an "encouraging" start to 2023, with like-for-like revenue growth of 7.6% to £529.3m in the 12 weeks to 1 April.
The group said the increase was driven by price alongside volume recovery in China.
Bakkavor continued to win UK market share, helping sales in the country rise 8.1% to £440.3m, while a post-Covid recovery in China helped revenues jump 17.1% to £27.8m.
Like-for-like growth in the US came in at just 0.4% to £61.2m as price increases were offset by losing volume with a customer.
The group said it continued to offset ongoing inflationary pressures, with price recovery in the UK expected to offset subdued volumes.
Adjusted operating profits for the year are now expected to come in at the upper end of the range of market expectations.
CEO Mike Edwards said: "There is no doubt that the changes we have made as part of our restructuring plans are underpinning performance. I would like to thank our teams for embracing and embedding these changes so quickly.
"The fundamentals of our business remain strong, as we continue to win market share, demonstrate strong operational delivery and maintain a robust balance sheet. We are confident of making further progress through the remainder of this year and into 2024."
The FTSE 100 opened down another 0.7% to 7,470.07pts this morning.
Shares in WH Smith and Bakkavor reacted well to this morning's trading update, rising 1.6% to 1,552.2p and 3.7% to 95.6p respectively so far.
Yesterday in the City
The FTSE 100 slipped 1.4% to 7,522.07pts yesterday.
Shares in Unilever fell 3% to 4,045p as the consumer goods giant announced long-time CFO Graeme Pitkethly is set to retire next May.
Meanwhile, Greencore shares soared 4.3% to 79.1p as first-half revenues jumped more than 20% as it recovered input cost inflation.
Other winners yesterday included Pets at Home, up 4.5% to 374p, THG, up 3.9% to 61.5p, Bakkavor, up 1.3% to 92.2p, and Naked Wines, up 2% to 107.2p.
Nichols, Associated British Foods and Britvic were among the losers, down 4.5% to 955p, 1.1% to 1,840.5p and 1% to 888.4p respectively.