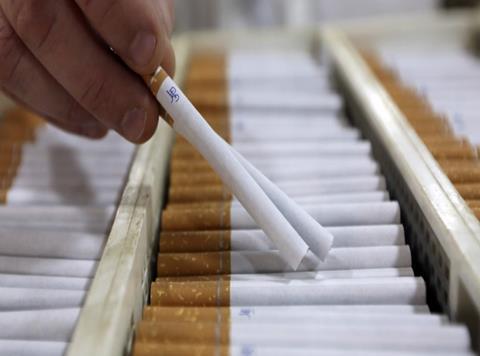 Top story
British American Tobacco has reported a resilient performance despite the effects of the coronavirus outbreak, with "strong" trading in developed markets.
The impact of the pandemic in emerging markets - including Bangladesh, Vietnam and Malaysia - has been "more pronounced" the company said. Additionally, closure in Mexico, Argentina and South Africa lasted longer than expects with the latter country banning tobacco sales due to coronavirus.
"The business is performing well against a backdrop of a very challenging and volatile trading environment," BAT said.
"We continue to see good pricing and strong volume and value share growth across our combustibles business, together with good share growth across all three of the new categories - vapour, tobacco heating and modern oral."
This means the company expects in total a full year headwind of around 3% from the coronavirus pandemic. Full year 2020 adjusted revenue growth is now expected around 1-3%. This was originally expected around the lower end of the 3-5% growth range.
BAT said it is performing well in New Categories, with share growth in all three categories and recent launches in THP showing encouraging early results.
However, the pandemic has disrupted consumer activation plans, reducing overall industry growth rates in New Categories and has led to the scaling back or postponement of some launches. Meanwhile, the vapour category continued to recover following the global slowdown experienced last year, but the US market remained below historical levels.
CEO Jack Bowles said: "We have made a good start to the year, with strong volume and value share growth in combustibles underpinning the sustainability of the business.
"Our focus on becoming a faster, simpler, more agile business through Project Quantum has positioned us well for continued delivery in the current environment and these efforts have ensured we are a highly resilient company. Thanks to the hard work and dedication of our teams around the world, I am pleased to say that we continue to perform well and expect a good performance in 2020, in the context of very challenging circumstances."
BAT is also developing a potential vaccine for coronavirus alongside US bio-tech subsidiary, Kentucky BioProcessing (KBP). The vaccine has so far demonstrated its ability to generate an immune response in pre-clinical testing and is poised to move to clinical trials.
BAT shares opened down 2.7% at 3,037.50p.
Morning update
Retailers have continued to suffer the crushing effects of the coronavirus lockdown with sales falling a further 6% in May, the second-worst decline on record.
Figures from the BRC-KPMG retail sales monitor covering the four weeks to 30 May showed total retail sales down 5.9%, an improvement over April's 19% fall but still the second-worst figure since 1995.
"Sales in May demonstrated yet another month of struggle for retailers across the country, despite an improvement on the previous month," BRC CEO Helen Dickinson said.
"Nonetheless, as the sun came out and restaurants lay dormant, food sales rose with consumers taking to their local parks for beers, barbecues and picnics.
"However, for those shops whose doors remain shuttered it was once again a tough month and even those who stayed open suffered reduced footfall and huge costs implementing social distancing measures."
In May, UK like-for-like sales rose 7.9% year on year, excluding temporarily closed stores but including online sales, which drove most of the increase.
Online non-food sales were up over 60% in May, against a growth of 4.4% the same month last year.
Over the three months to May, in-store sales of non-food items dropped over 50% on a total basis and 22% on a like-for-like basis.
Food sales, meanwhile, rose 5.6% and were up 8.7% on a like-for-like basis.
Susan Barratt, IGD CEO, said: "May marks another month of growth for the grocery retailers, with each week's sales showing significant year-on-year gains, albeit against the backdrop of an increased cost base as a direct consequence of Covid-19.
"UK grocery retailers substantially benefited from the two bank holidays and the sunniest month on record. This, combined with the start of lockdown easing, has seen more people keen to mark these occasions with barbecues and picnics.
"The latest reading of the IGD Shopper Confidence Index indicates that shopper confidence remains historically low, but there are significant shifts by region, reflecting how coronavirus is impacting different parts of the country. Tracking how the pandemic affects different shopper groups will be key to help retailers plan for the future."
The Competition and Markets Authority has cleared the proposed acquisition by Danone of Harrogate Water Brand, choosing not to refer the merger to a phase 2 investigation.
The regulator announced an investigation into the merger at the end of April, as it was considering whether the acquisition would result in a "substantial lessening of competition" within the UK market.
The deal - for an undisclosed amount – was announced in late February and would see Harrogate join water brands Evian and Volvic under Danone's portfolio.
The FTSE 100 started the day down 0.3% at 6,450.28pts.
Early risers included Bakkavor, up 6.1% at 90.96p, Applegreen up 3.5% at 377.80p and Total Produce 3.3% at 104.82p.
Fallers saw WH Smith open down 1.8% at 1,368p, PZ Cussons down 1.8% at 176.78p and Science in Sport down 2.5% at 31.20p.
Yesterday in the City
The FTSE 100 started the week by edging down 0.1% to 6,478.8pts.
Fallers included Ocado down 6.6% at 1,982.50p, SSP Group down 4.8% at 325.60p and Real Good Food down 4.3% at 5.03p.
Amongst the risers were Applegreen, closing up 9.5% at 377.80p, Marston's up 8.9% at 75.82p and 6.9% at 52.40p.