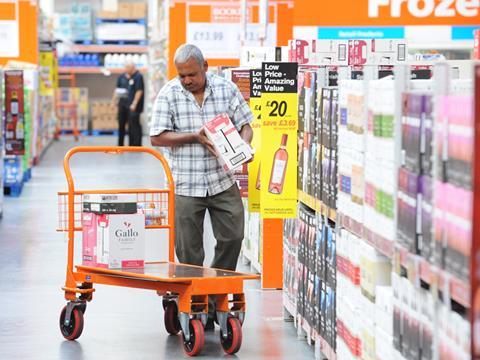 Top story
Tesco-bound Booker (BOK) saw pre-tax profits rise 15% in its full financial year, driven by rising non-tobacco like-for-like sales growth.
Booker CEO Charles Wilson said the group had delivered "another good year" after pre-tax profits rose 15% to £174m in the year to 24 March 2017.
Total revenues were up 6.7% to £5.3bn, with non-tobacco sales up 8.7% and tobacco sales 2.4%.
On a like-for-like basis sales were up 0.5% as non-tobacco like-for-like sales rose 2.8% and tobacco sales dropped 4.6%. Like-for-like sales to caterers were up 4.4% but 0.6% down to retailers.
Operating profits were up 14% to £176.1m, with statutory profits up 20% to £153.8m
Wilson said: "Booker Group had another good year. Our plan to focus, drive and broaden the business remains on track. Customer satisfaction was strong and sales and profits were the best we have ever achieved."
Booker did not give forward looking guidance because of its agreed merger with Tesco (TSCO), but said the first seven weeks of the current financial year is ahead of last year.
On the Tesco deal, Booker said the combination should "improve choice, quality, prices and service for the UK consumer" and would help the Booker catering, retail and small business customer "prosper in a challenging market".
It said it was continuing to assist the UK competition authorities in their ongoing consideration of the merger and it is expected that the merger will complete in late 2017 / early 2018, subject to the necessary shareholder approvals.
Wilson added: "This merger should deliver significant benefits for consumers, Booker customers, suppliers, colleagues and shareholders. We are very grateful for the support of our customers, suppliers and everybody in the Group and look forward to making progress in the year ahead."
Morning update
In advance of its AGM tomorrow, Greggs (GRG) has issued a trading update for the first 19 weeks of its financial year.
Total sales are up 7.5% in the period – a higher growth rate than the 5.7% achieved in the same period in 2016, while company-managed shop like for like sales up are 3.6%.
It has completed another 87 shop refits, with 42 new shops opened and 14 closed. This gives the group a total of 1,792 shops trading at 13 May (comprising 1,615 company-managed shops and 177 franchised units).
Greggs said: "New shop openings remain focused on new food-on-the-go locations, the relocation of existing shops and new catchments such as Northern Ireland and the south west of England."
It added it has made a "good start to 2017", but warned the sales outlook " remains uncertain in the context of slowing growth in disposable incomes".
Greggs stated: "Input cost inflation is having a modest impact on margins in the first half of the year as expected, however we have increasing visibility of costs for the second half and anticipate this pressure to ease towards the end of the year. Whilst this pattern will constrain profit growth in the first half of the year we expect to make progress in line with our previous expectations for the year as a whole."
Travel food to go specialist SSP Group (SSPG) has reported a 24% jump in underlying profits at constant currency, which translates to 38.5% growth at actual rates to £42.8m in the six months to 31 March.
Revenues were up 8.1% to £1bn at constant rates and up 19.6% at actual exchange rates.
Like-for-like sales were up 2.9% as it benefitted from air passenger travel growth and retail initiatives.
Underlying operating margin was up 30 basis points at constant currency to 3.7%.
CEO Kate Swann commented: "SSP has delivered another good performance in the first half of 2017 and we continue to make progress on our strategic initiatives.
"Constant currency operating profit was up 25% driven by good like-for-like sales growth and further operational improvements. We have had a particularly strong period of new contract openings, growing our presence across the world particularly in North America and the Asia Pacific region. The pipeline is robust and we are pleased with the new contracts won in the first half.
"Looking forward, the second half has started in line with our expectations and whilst a degree of uncertainty always exists around passenger numbers in the short term, we continue to be well placed to benefit from the structural growth opportunities in our markets and our programme of operational improvements."
Dairy Crest (DCG) has managed to post a rise in underlying profitabilty despite a slump in sales of its key brands and inflationary pressures towards the end of the year.
Adjusted profit before tax rose 5% to £60.6m in the year to 31 March.
Overall total product group profit (before interest, acquired intangible amortisation and exceptional items) increased by £2.3m to £68.3 million and the margin increased to 16.4% from 15.6% last year.
Although headline pre-tax profits were down 11% to £40.3m, Diary Crest said it had "delivered a set of results which demonstrate the underlying robustness of our business".
Revenue is lower than last year despite flat volumes reflecting the deflationary environment that existed for much of the last two years.
Total sales decreased by 1.3% to £416.6m, although revenue in the second half of the year was 3.7% ahead of the same period last year as prices began to rise.
Cheese and whey revenue fell by 3.4% during the year with decreased sales volumes and prices. Revenue in butters, spreads and oils fell by 1.2% as price deflation across spreads and butter in the first half of the year more than offset the second half recovery and the strong value and volume growth in Frylight.
Overall revenues from our four key brands were down 6%, with most of this decline due to the deflationary market for over three quarters of the year.
Key brand volumes were flat across the year. Volume growth in Frylight, Clover and Country Life spreadable was offset by declines in Country Life block butter, which was promoted less, and Cathedral City.
Net debt increased by 9% to £249.8m due to completion of Davidstow commissioning and final payment to Muller on sale of Dairies business.
CEO Mark Allen commented: "In the first full year since the transformational sale of our Dairies business, we have delivered a robust performance in a tough market.
"Our industry leading margins are the result of our focus on driving long-term value through brand building, innovation, investment in a world class supply chain and strong cost control.
"Looking forward, I am excited about the future for Dairy Crest. The business is well positioned to deliver profitable, sustainable growth and stronger cash generation. This underpins our commitment to growing our dividends and reducing debt."
On the markets this morning,
Trump worries continue to hang over the market, with the FTSE 100 down another 0.6% to 7,457.2pts this morning after weak trading in the US last night.
Booker has fallen back 0.3% to 198.6p after yesterday's gains. Greggs is up 0.2% to 1,073p, SSP Group has jumped 2.5% to 469p and Dairy Crest has slipped 1.4% to 607.5p.
Other movers include PureCircle (PURE), up 2.2% to 319.5p, McColl's Retail Group (MCLS), up 1.1% to 208.4p and Hotel Chocolat (HOTC), up 0.9% to 356.5p.
Early fallers include Marston's (MARS), down 2.5% to 140.4p, Science in Sport (SIS), down 1.1% to 85.1p and Majestic Wine (WINE), down 1% to 368.5p.
Yesterday in the City
Intensifying worries over the stability of the Donald Trump presidency in the US caused an end to the FTSE's nine-day rally yesterday as the FTSE 100 slipped back 0.3% to 7,503.4pts.
High City expectations for Booker's annual results this morning saw the wholesaler rise 1.7% to 199.2p yesterday and its prospective owner Tesco climb 2.2% to 182.3p.
Ocado (OCDO) also continued its rally from Tuesday, rising a further 2.5% to 288p, while Reckitt Benckiser (RB) rose 1.3% to 7,611p.
Other risers included Majestic Wine (WINE), up 2.6% to 372.3p and Conviviality (CVR), up 1.8% to 326p.
C&C Group eased back 1.1% to €3.51 after it slumped to a full-year loss as revenues declined by more than £100m and it was hit with exceptional charges totalling more than €150m.
SSP Group was down 0.8% to 457.8p ahead of its first half results this morning, while Greencore (GNC) was down 1.5% to 230.0p and Morrisons (MRW) slipped back 0.7% to 242.2p.
FeverTree (FEVR) continued its rollercoaster week, dropping 2.3% to 1,666p yesterday as the market weighs up whether its share price is close to peaking despite another sales upgrade earlier this week.
Other fallers included Crawshaw Group (CRAW), down 3.4% to 28.5p, Nichols (NICL), down 2.8% to 1,710p and Glanbia (GLB), down 1.7% to €17.90.