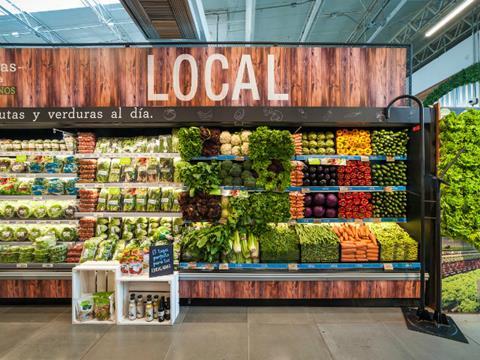 Top story
French hypermarket chain Groupe Casino (CO) has raised its target from the sale of non-core assets from €1.5bn to €2.5bn over the next year as it targets growth in convenience and online after signing a deal with Ocado (OCDO) last year.
Releasing its full year 2018 results this morning, the group said consolidated net sales were €36.6bn in 2018. This represented an increase of 4.7% on an organic basis, but a headline sales drop of 2.4% after taking into account the negative impact of currency movements.
In France total gross sales under the Casino brand increased by 2.8%, while e-commerce sales saw gross merchandise volume growth of 9.3% on an organic basis.
Its consolidated trading profit of €1,209m represented an increase of 18% on an organic basis excluding tax credits and 9.8% including tax credits. Taking into account currency effects, consolidated trading profit fell 0.3% excluding tax credits.
In France trading profit amounted to €579m, up 8.4% on an organic basis as trading margin increased by 18bps to 3%.
Casino said that the year had "exceeded expectations" and that in light of the completion of its planned €1.5bn asset disposal plan it has raised its asset disposal target to €2.5bn to be achieved by Q1 2020.
The group said it had received indicative offers for other non-strategic assets in France.
As it continues to transform its business with the sale of non-core assets, the group plans to open a further 300 premium and convenience stores by 2021.
This will increase its share of buoyant formats with a reduced exposure to hypermarkets to 15% of gross sales under banner from its current level of 21%.
It will also look to increase the proportion of E-commerce sales to 30% in 2021 up from its current level of 18% at end of 2018) drive by its partnership with Ocado and Amazon Prime Now.
In light of these new plans, the group has set a number of financial targets today for the next three years.
It aims to increase in the EBITDA margin and the trading margin for the retail business of 0.2%pts per year, growth trading profit for the retail business by 10% a year and increase free cash flow by €0.5bn per year with gross retail CAPEX below €350m per year.
Chairman and CEO Jean-Charles Naouri commented: "2018 marks the successful completion of the Group's transformation plan launched four years ago.
"In Latin America, our subsidiaries continued to record an excellent performance driven by Cash & Carry and the revitalization of the other formats. In France, the Group is fully committed to its trajectory of continuous improvement in profitability.
"Our capital structure has been strengthened with the significant reduction in debt and we are planning further debt reduction this year. Our business model is now well positioned for the profound changes that are taking place in the retail sector. Our strategic leadership will be further enhanced over 2019-2021 with an increased focus on profitable formats, accelerated development of our digitalization programme and E-commerce offering, and the expansion of new businesses which benefit from the Group's assets and expertise."
Casino shares eased back 0.5% to €45.00 this morning but remain close to year-long highs.
Morning update
This morning represents a relative period of calm after the political storm yesterday as the govermnet released its tariff plans in the event of no deal before parliament overruled the government yet again and attempted to take 'no deal' off the table.
The pound has surged on the back of the extroadinary scenes in parliament last night as parliament attempted to wrestle control of the Brexit process and push the country towards a softer version of Brexit.
After parliament voted to take 'no deal' off the table in any circumstance – though 'no deal' remains the default position without any further agreement with the EU – the pound jumped to multi-month highs.
The Pound rose as high as 1.18 in the wake of the votes – its highest level since mid 2017 – before closing at €1.1725.
The pound moved to its highest level since May 2018 against the dollar of $1.3378, before easing back to $1.3276.
On the markets this morning, the FTSE 100 has risen a further 0.4% to 7,185.3pts so far today.
Risers include Associated British Foods (ABF), up 1.1% to 2,269p, Ocado, up 1.1% to 1,085p and Marks & Spencer (MKS), up 1% to 270.3p.
Fallers include McColl's (MCLS), down 2.1% to 77.3p, Hilton Food Group (HFG), down 2% to 900p, Domino's Pizza Group, down 1.6% to 223p and Just Eat (JE), down 1.5% to 727.4p.
Yesterday in the City
Despite the gains of the pound during the day (see above), the FTSE 100 held its own yesterday edging up 0.1% to 7,159.1pts.
Morrisons rose 0.6% to 226.5p yesterday after posting solid annual results as full year profits jumped 8.6% at on the back of strong revenue growth in its wholesale arm and continued recovery under David Potts.
FTSE 100 tobacco stocks fell on the news that the US Food and Drug Authority had named National Cancer Institute director Ned Sharpless as acting commissioner as well as its release of draft rules aimed at banning the sale of flavoured ecigarettes.
British American Tobacco (BATS) slumped 3.4% on the news, while Imperial Brands (IMB) dropped back 1.8% to 2,583.5p.
Risers yesterday included Nichols (NICL), up 2% to 1,565p, Glanbia (GLB), up 1.8% to €18.98, Greggs (GRG), up 1.5% to 1,776p, PZ Cussons (PZC), up 1.3% to 197.8p and Compass Group (CPG), up 1.1% to 1,730p.
The day's fallers, along with the tobacco firms, included Domino's Pizza Group, down 3.4% to 226.7p, Finsbury Food Group (FIF), down 2.7% to 71.5p, McColl's (MCLS), down 2.7% to 79p, FeverTree (FEVR), down 2.4% to 2,688p, Just Eat (JE), down 2.3% to 738.2p and Bakkavor (BAKK), down 1.5% to 129p.