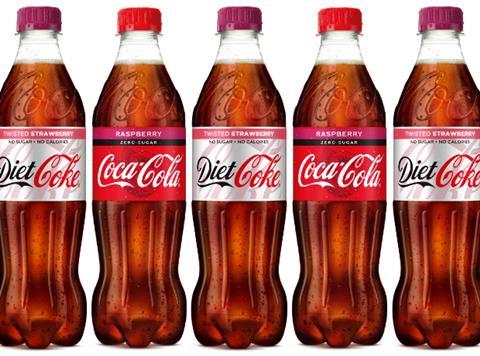 Top story
Coca-Cola HBC (CCH) has said that after a "strong start" to 2020, March and April have been "difficult" months as sales in the out-of-home channel were slashed by a nationwide lockdown imposed on most of its territories.
Total group revenue was down 1.2%, when adjusted for currency exchange, and 0.3% on a reported basis.
Volumes rose 3.1% in the first quarter, with good growth until February, partly offset by a decline in March.
Revenues by segment have been influenced by the timings and severity of each country's lockdown measure, the company said.
In the Established segment, comprising Italy, Greece, Austria, Switzerland and Ireland, volumes were 5.5% lower compared to the same period a year ago. The company saw "good performance during the first two months of the quarter" but declines in March. April volumes declined by over 41%.
"Since the lockdowns we have experienced a significant channel shift away from out-of-home, which represents over 40% of the revenues of some of our largest markets in the segment such as Italy and Greece," CCH said.
"We have benefited from an increase in demand in the at-home channel, in the weeks of household stock-up, although it has not been sufficient to fully compensate the volume lost in out-of-home."
Revenues were down 7.2%.
Developing markets, including Poland and Chezc Republic, saw volumes reduce 2.9% while revenues fell 4.4%. In Emerging markets, such as Nigeria, Serbia and Ukraine, volumes rose 8.1% and revenues 4.8% as most markets entered lockdown after the quarter ended.
However, in April - with every market in lockdown - revenues fell 37.2% and volumes 27.3%.
CEO Zoran Bogdanovic said: "The challenges presented by the Covid-19 pandemic are unprecedented for our business and the communities where we operate.
"After a strong start to 2020, March and especially April have been more difficult. I am very proud of how our teams are responding to this crisis, particularly the adaptability, resilience and community spirit our people have demonstrated.
"The strong performance in January and February ensured that we entered this crisis from a position of real strength with sound business fundamentals and a solid balance sheet. When the pandemic struck we took decisive actions, fully focused on keeping our people safe, our customers served and our communities supported.
"We are also effectively managing the business for the conditions which will support our performance and ensure we are well-placed to move into the recovery phase when it comes."
Morning update
The FTSE 100 opened up 0.4% at 5,878.44pts.
Risers saw British American Tobacco (BATS) open up 0.8% at 2,994p, Sainsbury's (SBRY) up 0.5% at 190.20p and Greggs (GRG) up 0.3% at 1,586p.
Fallers included Coca Cola HBC (CCH) down 0.6% at 1,916.50p, Unilever (ULVR) down 0.9% at 3,982p and Cranswick (CWK) down 1.4% at 3,628p.
Yesterday in the City
The FTSE 100 closed marginally higher at 5,873.76pts.
Risers included Diageo (DGE) up 1.9% at 2,764p, Ocado (OCDO) up 5.6% at 1,772.50p and FeverTree (FEVR) up 4.4% at 1,774.50p.
Fallers saw Associate British Foods (ABF) close down 3.2% at 1,696p, Britvic (BVIC) down 2.1% at 703.50p and Tate & Lyle (TATE) down 2.6% at 641.60p.