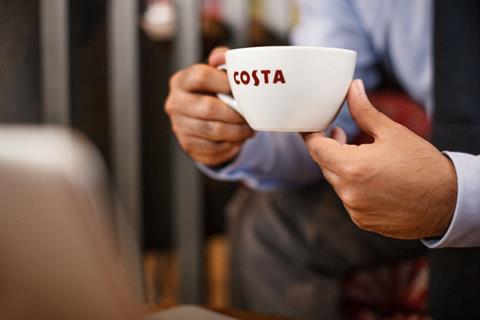 Top story
Whitbread (WTB) owned Costa Coffee grew its first quarter sales by 5.2% ahead of its planned demerger, but like-for-like sales fell 2% reflecting the slump on UK high streets.
The overall Costa sales growth was driven by the addition of new stores and Express machines convenience-based locations.
However, its UK like-for-like sales decline resulted principally from footfall weakness in traditional shopping locations. Costa said its outlets in travel locations continued to show "good" growth.
Total UK sales growth in Costa Express was 9.6% for the first quarter, driven by machine additions over the last year and positive like-for-like sales growth.
Despite the number of global machines remaining broadly flat in the quarter, after the exit of trials in Canada, plans are on track to install 1,300 machines worldwide this financial year, with international trials underway in European markets.
It added that positive momentum continues in China, with "encouraging" results from new and refurbished stores and "good" like-for-like sales growth. Plans to open approximately 100 gross new stores this year and continue to launch new products remain on track.
On the demerger plans, Whitbread said "constructive early steps" have been taken in preparation for the demerger and "good progress" continues to be made on the core infrastructure and efficiency work that was already underway.
It said a further update on the demerger will be provided alongside the interim results in October 2018.
Group-wide sales were up 3.2% in the quarter, primarily driven by Costa growth.
Like-for-like sales also fell at Premier Inn and its food and beverage division, to result in a total UK like-for-like sales decline of 1.3%.
Whitbread CEO Alison Brittain said: "We expect to deliver in-line with expectations for the full year and we continue to make strong progress on our efficiency programme.
"Costa UK grew total sales by 5.2% in the quarter through the strong contribution from new stores and Express machines. We continue to actively rebalance our network to high-footfall and convenient locations and have made good progress with our product innovation and operational initiatives. Our stores remain highly profitable and deliver an excellent return on capital. Costa Express continues to perform well and like-for-like sales in China are growing.
"Both the budget hotel market and the coffee market present long-term structural growth opportunities, and whilst we are cautious of shorter-term trading conditions in the UK, due to well-publicised consumer trends, we are confident that we have the right strategies in place to enhance our UK and international market positions and ensure each business is well-positioned to thrive as a separate entity."
Morning update
The John Lewis Partnership's strategy update meeting kicked off at 8am.
The meeting, which will cover key areas of business growth up to 2028, will hear from speakers including Chairman Sir Charlie Mayfield, Waitrose group finance director Patrick Lewis and John Lewis MD Paula Nickolds.
Check thegrocer.co.uk for the latest news from that meeting once it concludes.
Butchery group Crawshaw (CRAW) has issued a trading update for the 20 weeks to 17 June ahead of its AGM to be held later today.
It said group sales fell 1.6% during the period with like-for-like sales slumping 12.9%. The trading performance of its high street shops remains "challenging" and reflects the widely reported lower footfall and softer consumer sentiment.
The group added there are "numerous key sales-driving and cost-saving initiatives" currently being undertaken to improve performance in its high street estate. These include the strategic development of its central production to enable it to re-align the store labour model and improve instore efficiencies.
It said it continues to work to rebalance the portfolio away from its historical dependence on high streets and towards its more succesful factory shop format. It opened a further two factory shops in the year taking the total to 12 within the estate. It plans to open a further 3 new shops of this type during the remainder of current financial year.
New Crawshaw CEO Jim Viggars said: "Whilst the trading performance in our high street estate remains challenging, our team of great colleagues will strive to capture available growth. Our factory shops continue to perform well, and I am confident that repositioning the Group towards the successful factory shop model will strengthen Crawshaws' position as the country's best value butcher and improve the long-term profitability of the business."
On the markets this morning, the FTSE 100 has opened flat at 7,538.1pts.
Whitbread is up 1.4% to 3,945p despite this morning's like-for-like sales slide. Crawshaw shares have collapsed 27% to 5.1p - the shares were trading at over 80p before a profits warning in September 2016.
Sainsbury's is back up 2.8% to 314.6p this morning, while Ocado (OCDO) has risen 1.1% to 1,032p.
Fallers include McColl's (MCLS), down 2.8% to 212p, McBride (MCB), down 2.5% to 135.2p and AG Barr (BAG), down 0.4% to 683p.
Yesterday in the City
The FTSE 100 ended the day up 0.4% to 7,537.9pts yesterday, however it was a tougher day for the UK's listed grocers.
After the release of Kantar Worldpanel and Nielsen's grocery market share figures showed Sainsbury's (SBRY) as the worst performing of the big four, the supermarket's shares dropped 2.2% to 306p.
Tesco (TSCO) was also on the slide, dropping 1.5% to 257.2p, while Ocado dropped 1.4% to 1,021p on the slightly weaker than expected overall grocery growth.
Morrisons (MRW), the fastest growing of the multiples, rose 0.2% to 248.2p.
Elsewhere, the pressure being exerted on the Premier Foods (PFD) board by activist investor Oasis Management saw the group slide 4.7% to 36.75p.
Finsbury Food Group (FIF) fell 4% to 119.5p, Compass Group (CPG) was down 2.3% to 1,580p, Greggs (GRG) fell 1.9% to 1,008p, Britvic (BVIC) dropped 1.1% to 767p and British American Tobacco (BATS) was down 1.2% to 3,756p.
Whitbread dropped 1.7% to 3,893p ahead of its first quarter results this morning.
Those companies on the rise included Reckitt Benckiser (RB), up 1.7% to 6,181p, Marks & Spencer (MKS), up 1.1% to 298.7p, McColl's (MCLS), up 1.9% to 218p Fevertree Drinks (FEVR), up 1.6% to 3,414 and Majestic Wine (WINE), up 1.5% to 472p.