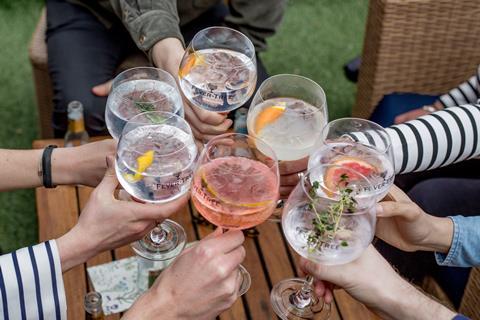 Top story
Fever-Tree has experienced a jump in off-trade sales during the coronavirus shutdown, but has warned the closure of bars and restaurants across its key markets will have a "material impact" on full year trading.
Ahead of its AGM later this morning, the drinks mixers producer said its off-trade performance "continues to be very encouraging" and it is "well positioned to manage our way through the current situation".
In the UK, it said on-trade sales typically represent 50% of UK revenue and continue to be severely impacted by the lockdown.
However, off-trade sales in the first full month of lockdown were up 24% year on year and it has seen continued positive momentum since, reflecting increased at home consumption during the period.
It said its core tonic range has performed particularly well, and there has also been notable growth in the convenience channel as consumers increasingly supplement or substitute their trips to large grocery stores.
Its US business is more weighted to the off-trade, which typically contributes 70% to the group's US revenue.
Since the start of lockdown, while on-trade sales have been severely impacted, but off-trade sales have grown extremely strongly.
Nielsen data, which covers just under half of Fever-Tree's off-trade sales in the US, reported 98%2 growth year-on-year for the four weeks to 18th April and 96% in the four weeks to the 16 May.
"Whilst this performance reflects the benefit of incremental distribution that was secured over the course of H2 2019, along with increased at-home consumption during lockdown, it also highlights the growing strength of the Fever-Tree brand, supported by the continued trend towards premium, long drinks," the group said.
In addition, the group's US pricing and format optimisation has been "very well received by distributors and retailers", with implementation beginning to be seen on-shelf between March and June 2020.
Elsewhere, Northern Europe is naturally weighted to the off-trade and has therefore been more robust, Southern Europe is more reliant on the on-trade, causing it to be more significantly affected. It is also delivering strong off-trade sales and continued distribution gains in other regions, most notably in Australia and Canada.
Despite the encouraging on-trade performance, it said Covid-19 will have a material impact on Fits full year trading, with headwinds on gross margin due to changes in channel and territory mix.
It said the easing of restrictions and the pace at which the on-trade re-opens will vary between regions, but it is becoming increasingly likely that this process will be gradual and cautious, with social distancing measures remaining in place for some time.
However, it said the company remains committed to continuing to invest through this period of uncertainty as opportunities arise, particularly in marketing, enabled by the group's strong balance sheet and conviction in our ability to deliver long-term sustainable growth.
Chairman Bill Ronald commented: "Our asset light business model continues to support our secure financial position with a 2019 net cash position of £128m and we benefit from a strong brand portfolio with well-balanced revenue streams across regions, channels and customers.
"While the on-trade remains fully or partially closed across many of our regions, the group's performance across the off-trade continues to be very encouraging. Management remain focused on delivering our long-term strategy and we are confident the Group will be well placed once the current period of uncertainty ends."
Fever-Tree shares are up 1.7% to 2,116p in early trading.
Morning update
French spirits group Rémy Cointreau has reported a slump in full year sales as the global pandemic, threat of US tariffs and wider geopolitical instability hit revenues.
In the financial year ending March 2020, Rémy Cointreau posted sales of €1.02bn, down 9% on a reported basis and 11.2% on an organic basis.
Current Operating Profit came in at €215.1m, down 18.6% on a reported basis and 22.0% on an organic basis after a historically strong financial year 2018/19.
Operating margin, while declining, was a "satisfactory" 21.0% as gross margin increased by 2.8 percentage points on an organic basis, but overall profitability was pulled down by continued strategic investment in communication and by structure costs.
Sales at the House of Rémy Martin declined 7.5% on an organic basis in (down 5%) on a reported basis), despite strong growth in Mainland China. However, performance in other markets was more mixed, particularly in Travel Retail, the United States (due to retailers reducing their stocks) and Europe (due to changes in the distribution network).
The Liqueurs & Spirits division was down 3.0% in the year on an organic basis, while Partner Brand sales fell sharply in the year, falling 68.7% on an organic basis.
"In an uncertain public health, economic and geopolitical environment, the Rémy Cointreau Group remains confident of its ability to emerge stronger from the crisis," the group stated.
"In the medium term, Rémy Cointreau reiterates its aim of becoming the global leader in exceptional spirits, a segment in which the growth outlook remains attractive, particularly in a world of more responsible consumption."
It said more favourable trends in the consumption of spirits in the United States over the past few weeks mean it has slightly upgraded its forecasts for the first quarter of 2020/21, with sales now expected to be down 45% on an organic basis from its previous estimate of 50%-55%.
Based on what looks set to be a moderate decline in the second quarter, the group expects current operating profit to decline by 45-50%, on an organic basis, in the first half of 2020/21.
However, the second half of 2020/21 should see a strong recovery, buoyed by China and the United States.
Elsewhere, travel food-to-go specialist SSP Group has raised £11m from the placing of 3,382,255 new shares.
The group had already raised £216m through a share placing last month, but yesterday announced it would encourage shareholders to swap its full year dividend for new shares.
The shares were placed at 315.2p per share, equal to the mid-market closing price of SSP's shares on 3 June 2020.
SSP offered the dividend for equity swap as it was unable to cancel its already approved dividend payment.
On the markets this morning, the FTSE 100 has opened more cautiously, down 0.2% to 6,372.8pts.
Early risers include Applegreen, up 4.5% to 350p, Nichols, up 3.3% to 1,355.6p and Coca Cola European Partners, up 1.8% to €36.37.
Fallers so far include C&C Group, down 2.4% to 201.5p, Science in Sport, down 2.3% to 36.1p and SSP Group, down 1.8% to 309.4p.
Remy Cointreau shares are up 6.3% to €118.80 on its upgraded outlook.
Yesterday in the City
The FTSE 100 jumped 2.6% to another post lockdown high of 6,382.4pts yesterday as the UK and global economies begin to reopen.
Marks & Spencer (MKS) was one of the day's strongest risers, climbing 8.2% to 106.9p, boosted by the prospect of re-opening stores.
Food to go specialists Greencore and Bakkavor were boosted by hopes that the reopening of the economy would see a return of people buying sandwiches and other food to go products, rising 6.9% to 143.2p and 6.6% to 77.7p respectively.
Other risers included Coca-Cola European Partners, up 4.8% to 35.8p, PayPoint, up 4.5% to 767p, Science in Sport, up 4.2% to 37p, WH Smith, up 4.1% to 1,187p and Britvic, up 3.7% to 772.5p.
The day's fallers included Premier Foods, which fell 3.9% to 43.5p as its sales have been boosted during the lockdown period. Other fallers included Naked Wines, down 2.2% t 405p, B&M European Value Retail, down 2% to 385p and McBride, down 1.5% to 67p.