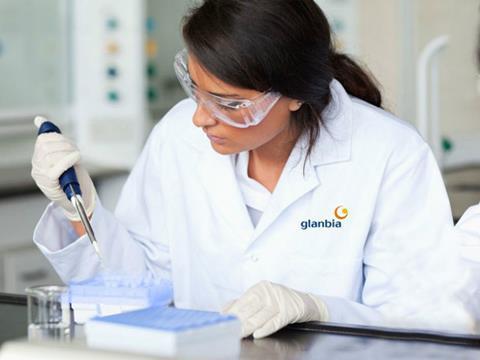 Top story
Glanbia has posted a 'resilient' performance so far in 2020 as a sharp drop in sales at its performance nutrition division was mitigated by growth in its nutritionals business.
In the nine months ended 3 October 2020, wholly owned revenue on a reported basis increased by 1% when compared to the same period in 2019.
Excluding the impact of the 53rd week in 2019 and acquisitions wholly owned revenues in the first nine months of 2020 were up 3.1% on a constant currency basis.
The drivers of this revenue increase were price growth of 4.8%, primarily driven by strong cheese markets, offset by a volume decline of 1.7% led by weaker performance nutrition division sales.
Glanbia Performance Nutrition, which includes Amazing Grass, Body & Fit and SlimFast, saw a revenue decline of 13.9% in the first nine months of 2020 compared to prior year.
This year to date decline was primarily driven by the disruption associated with the Covid-19 pandemic in the second quarter which reduced volumes in international markets and the specialty and distributor channels in North America.
However, trends improved significantly in the third quarter, as routes-to-market in International regions gradually reopened. Price trends also improved and were positive in the third quarter.
GPN like-for-like branded revenue declined by 9% in the first nine months of 2020 versus prior year, but by a more modest 2.3% in the third quarter.
Meanwhile Glanbia Nutritionals, which includes its US Cheese and ingredients businesses, saw revenue increased by 9.2% versus prior year.
This was driven by a price increase of 7.5%, a volume increase of 0.8%, and acquisitions delivering 0.9%.
Glanbia said it expects GN and JVs to continue to deliver a resilient earnings performance in the fourth quarter in addition to further sequential improvement in GPN.
However, the group "remains vigilant of the continuing uncertainties" arising from Covid-19.
Good operating cash flow is expected to continue in the fourth quarter with net debt to adjusted EBITDA ratio anticipated to be below 2 times by year-end.
Group MD Siobhán Talbot commented: "I am pleased to announce that in the first nine months of 2020 Glanbia grew like-for-like wholly owned revenues by 3.1% (up 1.0% reported).
"Through the challenges of the Covid-19 pandemic the Glanbia portfolio has been resilient, particularly the Glanbia Nutritionals segment and our joint ventures. In the third quarter, trends in Glanbia Performance Nutrition improved significantly with an increase in revenues and margins versus the second quarter as markets gradually reopened and trading patterns improved.
"The Group has continued to focus on improving its financial position while maintaining investment in growth; with all key strategic projects on track and the acquisition of Foodarom closing in the third quarter.
"We expect to continue to build momentum into Q4 and to exit the year well positioned for 2021 growth."
Morning update
Hilton Food Group, Tesco's meat packer, has updated the market on trading for the period from 13 July 2020 to date.
It said performance has been in line with the board's expectations.
"We continued to grow the business through additional volumes reflecting both the ongoing shift to home consumption as well as close cooperation with our retail partners," it stated.
In Europe, it has continued to make good progress in a number of markets, benefitting from consumers eating out less often due to the ongoing impact of Covid 19.
Turnover in the UK is therefore higher and driven predominantly by red meat and fish volumes, while revenues have continued to grow in both Sweden and Denmark.
In Holland, it has seen higher red meat volumes and also benefitted from vegetarian and vegan products produced by Dalco, where volumes have increased. In Central Europe, volumes have remained buoyant as reported at the half year, with continued volume growth in Fresh Food across both Tesco and Zabka.
In Australia, it is now operating as a unified business covering the sites of Bunbury, Truganina (Victoria) and Queensland. The tightening of restrictions in Victoria state during the quarter led to increased home consumption and strong volume growth. The development of the New Zealand facility is still on track to open in the third quarter of 2021.
It stated: "The group's financial position remains strong and we continue to explore opportunities to invest in and to grow the business in both domestic and overseas markets."
Elsewhere, property investor Supermarket Income REIT has acquired a Sainsbury's supermarket (and adjoining commercial premises) in Heaton, Newcastle upon Tyne, from the National Farmers Union
The deal for £53.1m (excluding acquisition costs) reflects a combined net initial yield of 4.1%.
It said Sainsbury's has a long history of trading from this prominent 11-acre site, which was originally developed in the 1980s and completely rebuilt in 2011.
The site comprises a 68,000 sq ft net sales area supermarket with purpose-built online fulfilment docks which support Sainsbury's online grocery fulfilment across the store's catchment area, over 420 parking spaces and a 12-pump petrol filling station.
The supermarket is being acquired with an unexpired lease term of 21 years with five-yearly, upward-only, RPI-linked rent reviews. The next scheduled rent review is in November 2021 which will see the combined net initial yield from the site increase to a minimum of 4.6%.
Ben Green, Director of Atrato Capital, the Investment Advisor to Supermarket Income REIT, said: "This omnichannel Sainsbury's store is an excellent addition to our growing portfolio. The property has strong underlying fundamentals with an attractive inflation linked lease in excess of 20 years and provides asset management opportunities."
On the markets this morning, the FTSE 100 has failed to recover from yesterday's plunge, remaining down 0.1% at 5,580.2pts.
Glanbia shares rose on the improved third quarter performance, up 5.7% to €8.24 this morning.
Other risers include Stock Spirits, up 4.9% to 224.5p, Nichols, up 3.3% to 1,014.3p and McBride, up 3.3% to 63p.
Fallers include Marston's, down 2.8% to 47.1p, WH Smith, down 2.4% to 964.2p and Greencore, down 2% to 88.5p.
Yesterday in the City
The FTSE 100 slumped 2.6% back to 5,582.8pts yesterday – hitting its lowest level for six months amid mounting concerns about a growing second wave of global coronavirus cases and a raft of further lockdown measures across major economies.
Those stocks exposed to out of home consumption were again hit, with fallers including C&C Group, down 5.6% to 160p, SSP Group, down 4.1% to 179.1p, Coca-Cola HBC, down 4.1% to 1,812.5p, Greggs, down 4% to 1,300p and Coca-Cola European Partners, down 3.4% to €31.58.
Other heavy fallers included McColl's Retail Group, down 7.5% to 20.4p, McBride, down 4.7% to 61p, Kerry Group, down 4.4% to €100.80, Glanbia, down 3.7% to €7.79 and PZ Cussons, down 3.6% to 229.5p.
Few stocks held their own, but those that weren't in the red included Devro, up 0.3% to 153p, Ocado, flat at 2,313p and B&M European Value Retail which was flat at 488.1p.