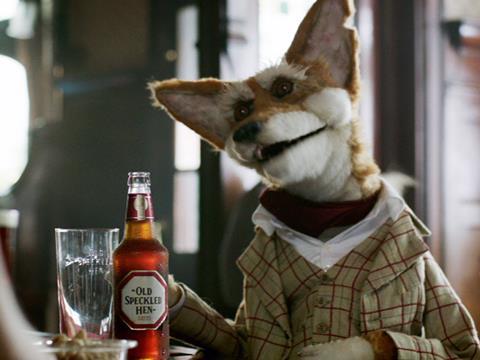 Top story
Greene King (GNK) has posted a rise in annual sales and underlying profits driven by the UK's warm summer last year and the World Cup, but has warned its trading so far this year has been impacted by the wetter weather.
Group sales were up 1.8% to £2.2bn in the year to as strong sales growth in its pub company and brewing & brands division offset reduced revenues from the planned rationalisation of its estate pub estate.
Its brewing and brands division was its strongest performer, with sales up 5.8% to £227.6m and total beer volume growth of 0.9% supported by the good weather and the 2018 World Cup.
Own brewed volume was down 3.4%, but that remained ahead of a wider 4.1% drop in the total ale market down 4.1%.
It said Greene King's core brands maintained their UK market leading positions. Greene King IPA continues to be the fastest selling top 10 cask ale brand in the on-trade. Abbot Ale saw strong volume growth of 9.6% and remains the fourth largest ale brand in the UK, while Old Speckled Hen is the number one premium ale brand in the UK with the highest brand awareness in its category.
Pub company revenues were up 1.8% to £1.8bn with strong like for like sales growth of 2.9% offsetting the 2.5% decrease in the average number of pubs trading. Average weekly take was up 4.1% and average EBITDA per trading pub was up 3.3%, reflecting its ongoing estate optimisation programme.
Pub partners sales were down 2% to £190.1m, driven by a 5% decrease in the average number of pubs trading. However, like for like net income was up 1.5%, boosted by higher rental income and beer sales.
This sales growth helped group profit before tax, exceptional and non-underlying items rise 1.6% to £246.9m, partly driven by a 6.8% reduction in net interest costs.
Reduced interest costs mitigated £14m of net cost inflation which meant operating profit before exceptional items fell 1.3% to £368.2m.
Statutory group profit before tax fell by 12.5% to £172.8m as exceptional charges rose to £79.4m from £45.5m last year, driven by a property impairment of £56.7m, tax charges and employee related costs.
New CEO Nick Mackenzie commented: "Greene King is a great business with a rich heritage, a high-quality estate, a strong portfolio of brands and 38,000 talented team members. Just two months into the job, I have been struck by the amazing pride and passion that our team members have for Greene King and I want to thank them for their continued dedication to providing great experiences for our customers and supporting local communities.
"The business delivered good results last year, regaining trading momentum in Pub Company and returning to market outperformance while fulfilling a strong cost mitigation programme and making further progress refinancing the Spirit debenture. The existing strategy we have in place has led the business through challenging times. I am looking forward to building on Greene King's strong foundations with a focus on innovation, on developing our people and on customer service to further enhance our brands and deliver sustainable growth for our shareholders."
However, Greene King said looking forward it "cannot count on repeating last year's weather, nor a stable economic environment".
The group admitted trading over the first eight weeks was impacted by the poor UK weather and like for like pub sales are below last year's strong comparatives.
The company stated: "Political and consumer uncertainty is likely to continue to weigh on confidence and the cost inflationary environment persists.
"However, with clear strategic priorities and our ongoing cost mitigation programme in place, we are confident in delivering another year of progress and we are well positioned to continue driving sustainable long-term growth for our shareholders."
Greene King shares are up 3.5% in early trading to 600.4p
Morning update
French retailer Casino Groupe has announced a project to simplify its structure in Latin America.
It will review a plan to sell its 55.3% stake in its Colombian operations Éxito to its Brazilian subsidiary GPA. Casino will then acquire all controlling shares in GPA indirectly owned by Exito.
It said the tender offer share price offered by GPA and the acquisition price by Casino of the shares held by Éxito in Segisor would both include premiums over their current share prices.
At the end of the project, Casino would solely hold 41.4% of GPA, which would itself control Éxito and its subsidiaries in Uruguay and Argentina.
Casino said the plan remains subject to the corporate approvals of the governance bodies of the three companies concerned.
On the markets this morning, the FTSE 100 is up 0.3% to 7,436.1pts so far today.
Early risers along with Greene King include B&M European Value Retail (BME), up 3.4% to 329.2p, Bakkavor, up 2.5% to 117.8p, McBride (MCB), up 2% to 79.6p, DS Smith (SMDS), up 1.9% to 364.9p and Sainsbury's (SBRY), up 1.6% to 192.5p.
Fallers so far today include Finsbury Food Group (FIF), down 2.1% to 66.1p, Glanbia (GLB), down 2% to €14.37, Kerry Group (KYGA), down 1.6% to €104.20 and British American Tobacco (BATS), down 1.2% to 2,774.5p.
Yesterday in the City
The FTSE 100 remained almost flat, dropping six points to 7,416pts.
In a day of little significant wider share price movement, Applegreen (APGN) was up 0.5% to 479p after agreeing to buy 46 petrol forecourts to make its first major foray in to the United States' Mid-West.
Other risers included Carr's Group (CARR), up 2.7% to 150p, Hilton Food Group (HFG), up 1.6% to 955p, McColl's (MCLS), up 1.2% to 68p McBride (MCB), up 1% to 78p and Imperial Brands (IMB), up 0.9% to 1,882.8p.
Fallers yesterday were led by PayPoint, down 3.6% to 1,020p, while Glanbia (GLB) fell 1.9% to €14.67, Finsbury Food Group (FIF) was down 1.5% to 67.5p, Bakkavor (BAKK) dropped 1.4% to 115p and Tate & Lyle (TATE) fell 1.2% to 744.6p.
There were a handful of FTSE 100 fallers, including Tesco (TSCO) which dropped 1.8% to 224.2p, while Reckitt Benckiser (RB) fell 1.3% to 6,201p and Ocado (OCDO) fell 1.1% to 1,136p.