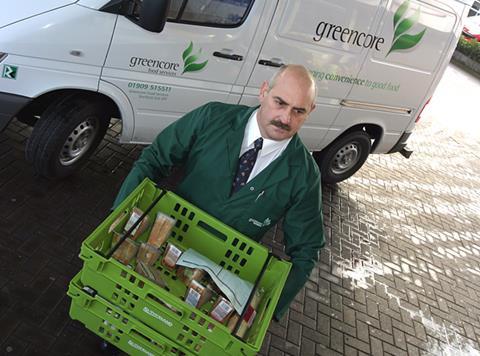 Top story
Food-to-go manufacturer Greencore (GNC) has suffered a "challenging" first half of the year, impacted by its struggling US business, but but its figures this morning were ahead of analysts' expectations.
Shares spiked by 9.7% as the company recorded sales growth of 22.6% to £1.23bn for the half-year ending 30 March 2018, although losses in US cut profit before tax from £11.7m for the previous year, to a pre-tax loss of £18.1m.
Greencore's adjusted operating margin fell from 5.5% to 4.8%, and the company's shareholders also saw earnings per share drop by 12.7% to 5.5p.
A profit warning related to its US business in March saw the companies share value slump 30%, as a result of a combination of a lack of new business and the impact of the exchange rate between the pound and the dollar.
Sales in the UK and Ireland convenience food business grew 7.2% to £734.9m, but adjusted operating margin fell, from 6.8% to 6.4%. Operating profit in the UK and Ireland thus made a modest 0.6% rise to £47.1m.
In the half-year, Greencore extended several long-term agreements with key customers and continues to take a market share of around 60% for sandwiches in the UK grocery sector.
In November 2017, the company announced a streamlining and efficiency programme, which resulted in £9.6m in exceptional costs during the period. It says this is expected to deliver up £15m in annualised gross benefits.
Greencore has also begun the refurbishment and extension of its largest ready meals facility in Warrington which it expects to be completed by the end of the financial year.
Volume growth in the convenience division of the company, was offset by "adverse weather" and investments into its ready meals business, it said.
In February the company sold its Hull factory to Bright Blue Foods Ltd and the planned closure of its Evercreech facility is expected to be completed this summer.
In the UK, sales were "broadly flat" in Q2, where adverse weather had an impact, offsetting modest growth in operating profits from more significant volume growth in Q1.
In the US, sales grew 55.1% to £503.6m, benefitting from the acquisition of Peacock Foods in December 2016. But strong volume growth and good operational performance in the former Peacock Foods business was more than offset by volume declines in the original Greencore business, increased operating losses in its Rhode Island facility before closure and increased overheads as from investment for growth.
Exceptional items, consisting of losses on its Rhode Isalnd and Hull facilities, as well as "reorganisation costs", increased from £10.7m in the period last year, to £28.2m, resulting in losses after tax.
The company said it anticipates "good organic growth" in the second half of the financial year, due to seasonal trends and strong year-on-year performance in food to go.
"The first half of FY18 has been challenging for Greencore and its shareholders. While we delivered strong revenue growth in both the UK and US, profit growth was impacted by the challenges experienced in the original part of Greencore's US division," said CEO, Patrick Coveney.
"As a result of the significant strategic, network and organisational measures that we have taken in order to address these challenges, we believe that our US business is now much better positioned to deliver an improved performance in the second half of the year and beyond. We anticipate strong organic growth for the remainder of FY18".
Morning update
Fresh food supplier and producer Cranswick (CWK) saw sales jump 17% for the year, boosted by strong growth in the export market.
Sales grew to £1.46bn for the year ending 31 March, bolstered by a 30.2% increase in export sales over the period.
The company announced its £59m strategic investment plan to increase production capacity
Cranswick recorded an increase of like-for-like revenue of 12.7%, as it increased its operating margin to 6.3%, from 6.1%. Adjusted profit before tax jumped up 22.4% to £92.4m for the year.
Despite a decline in sales to far eastern markets of 6.1%, exports grew by 30.3% overall, driven by growth in the US and in Europe. Export sales outside the far east increased by 104%.
Total sales in fresh pork increased by 20.1%, significantly ahead of UK pork market, which saw volumes decline 1% over the year.
Sales in the company's convenience arm grew 12.1%, driven by new business contracts since the previous year.
"We have delivered a strong financial performance for the year and made further progress in delivering our strategy. We grew like-for-like revenue by 13 per cent and increased adjusted profit before tax by 22 per cent," commented CEO, Adam Couch.
"We spent a record £59 million across our already well invested asset base. This brings the total investment in our infrastructure over the last eight years to over £270 million.
"Over the last 12 months we have strengthened our asset base, enhanced market positions and developed new customer relationships. We continue to make good progress against each of our strategic objectives and we are well placed to continue our successful development in the current financial year and over the longer term".
Pets at Home (PETS) saw sales increase by 7.8% as it announced its annual figures, but underlying profit before tax fell 12.3% to £84.5m.
The retailer, saw a reduced gross margin, from 54.2.% to 51.7%, cut into growth. The company saw like-for-like sales up 5.5%, in a year which saw it open 5 new superstores as well as more than 20 vet practices and more than 10 grooming salons.
"Our plans to reposition retail are working, more customers are coming back to shop with us, and we are committed to returning the business to profit growth", said new CEO Peter Pritchard.
"We have a bright future. Year one of our three-year strategy has delivered, and as a business we are on a stronger competitive footing to return to sustainable profit growth."
The FTSE 100 has opened higher again this morning, rising 0.1% to 7,870.3pts.
Early risers include Cranswick, up 8% to 3,420p, Ocado Group (OCDO) up 1.9% to 890.2p and Tate & Lyle (TATE) up 1.7% to 608.2p.
Fallers this morning included Wincanton, down 1% to 270p, Premier Foods (PFD), down 0.8% to 37.4p and Imperial Brands (IMB), down 0.4% to 2,780p.
Yesterday in the city
Ocado (OCDO) continues to embarrass its previous critics by continuing to climb in value. Following the announcement of the company's deal with US grocery giant Kroger on Thursday, which saw it rise 44%, the delivery provider rose 9.1% on Monday to 873.4p after broker AlphaValue changed its investment rating from sell to add.
Five days after announcing plans to close 50 stores, retailer Mothercare has made a jump of 25.3% to share value of 40.1p.
It was another positive in general for the FTSE100, which grew 1.03% to 7,859.1pts, surging to a record high for the second time in a week, on the back of easing trade tension between the US and China.
Other major grocery companies on the rise included butchers chain Crawshaw Group (CRAW), up by 6.3% to 11.6p, Sainsbury (SBRY) up 3.5% to 316.2p and Cranswick up 3% to 3,164p ahead of its full-year results.
Dairy haulage firm Wincanton fell 1.1% to 273.5p. Despite a year-on-year increase in revenue of 6.5% to £691.7m, retail grocery sales fell 13.5% after losing its contract with Tesco last year.
Other fallers in the sector include Stock Spirit Group (STCK), down 1.7% to 252p, British American Tobacco (BATS) fell 0.9% to 3,764.5p and Dairy Crest (DCG) dropped 0.3% to 534p.