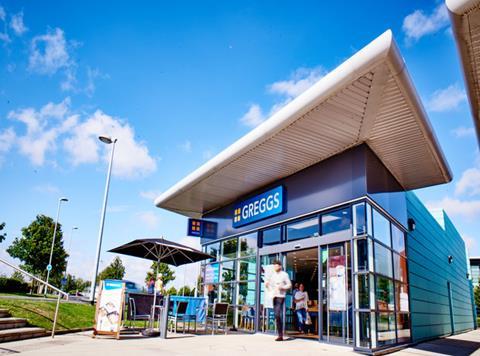 Top story
High street bakery chain Greggs (GRG) has shrugged off "extreme weather conditions" and wider economic uncertainties to post a jump in full year sales and profits.
The listed food to go group said that its first half was "significantly" impacted by extreme weather conditions, but once these conditions returned to normal "underlying strengths were revealed in a strong second-half performance".
Total sales grew 7.2% to £1.03bn, which marked the first time the business has generated turnover of more than a billion pounds in a year.
Company-managed shop like-for-like sales grew by 2.9%.
Greggs invested in its supply chain during the year to increase efficiency and capacity for growth, but still returned a healthy bottom line.
Underlying operating profit, excluding property profits and exceptional items, grew by 9.1% to £89.1m.
Pre-tax profit (including exceptional items) grew by 14.8% to £82.6m.
During the year it opened 149 new shops while closing 50 outlets to leave it with 1,953 shops trading at 29 December 2018.
Greggs added that it has made a "very strong start to the year" with company-managed shop like-for-like sales up by 9.6% in the seven weeks to 16 February 2019, boosted in part by booming sales of its vegan sausage rolls.
Greggs said: "The extraordinary level of social and general media coverage that followed has attracted additional visits to our shops, offering a great opportunity to showcase the many improvements that have been made to our shops and product offering in recent years."
In terms of outlook, Greggs said: "At a time of unprecedented political and economic uncertainty for the food industry and for the UK, Greggs continues to demonstrate its resilience.
"Whilst we cannot be immune to the impact that this uncertainty may have on the economy as a whole, we are in a strong financial position and are investing for further growth and increased competitiveness in the years ahead."
CEO Roger Whiteside commented: ""Whilst there are significant uncertainties in the months ahead, Greggs has started 2019 in great form, helped in part by the publicity surrounding the launch of our vegan-friendly sausage roll.
"We hope to continue benefiting from this strong momentum during the first half of 2019 before facing stronger comparatives later in the year. We have a strong financial position which we plan to use to invest in Greggs' potential for further growth, whilst also delivering good returns for shareholders."
Greggs shares had edged down 0.1% to 1,809.2p so far today after a recent share price surge.
Morning update
Finnish food group and Benecol owner Raisio has signed a strategic alliance with the Italian company Dr. Schär.
Dr. Schär is a "leading global company" in gluten-free foods while Raisio now concentrates on cholesterol-lowering functional foods after exciting its UK cereal and confectionery businesses.
Raisio said the long-term framework agreement will see the companies are exploring opportunities for extensive collaboration in product development and manufacturing, among other things.
Raisio and Dr. Schär said this strategic alliance creates added value for both companies. The collaboration also opens new opportunities for Raisio's Benecol and Elovena brands, in Dr. Schär's strong markets, particularly in Germany, Italy, France and Spain.
Raisio CEO Pekka Kuusniemi said: "With its clear focus and high expertise in the markets of value-added products, Dr. Schär is an excellent partner for Raisio. Dr. Schär's strong foothold in Europe complements Raisio's geographical presence."
Dr. Schär CEO Ulrich Ladurner added: "The strategic alliance with Raisio is an important step for us as it will enable us to further develop and strengthen our distribution network. In addition, Raisio's value brands will complete our portfolio and we will get access to Raisio's excellence in oats. As a family-owned company, it is important for us to know that the companies share the same core values."
Dr. Schär has 1270 employees and 10 production plants with net sales of €360m in 2018.
Elsewhere, the acquisition of a 45% stake in Dole Food Company for US$300m helped grow full year sales to over €5bn at Total Produce (TOT).
Total revenues were up 17.7% to €5.04bn in 2018 after the Dole transaction completed on 31 July to add a further €692m of sales to the group in the second half.
Excluding the results of Dole, the group delivered a "good" performance in 2018 with total revenues up by 1.6% boosted by the contribution of past acqusitions but held back by the relative strength of the euro.
Adjusted EBITDA was up 27.6% to €133.3m, while adjusted EBITDA excluding Dole rose 5.7% to €110.4m.
Chairman Carl McCann said: "We are pleased that Total Produce has delivered continuing good results in a more challenging year. The acquisition of the shareholding in Dole represents a transformational change for Total Produce and brings together two of the world's leading fresh produce companies."
"Trading in early 2019 has been satisfactory. Total Produce is targeting an increase in the 2019 adjusted fully diluted earnings per share, including Dole in the mid-to-upper single digit range over the 2018 adjusted earnings per share of 13.50 cent."
On the markets this morning, the FTSE 100 has started the day on the back food after dropping 0.5% to 7,163pts so far today.
Risers so far include C&C Group (CCR), up 4.1% to €3.31, Bakkavor (BAKK), up 2.6% to 141.4p, McColl's (MCLS), up 1.3% to 76p and Diageo (DGE), up 1.3% to 3,030p.
Fallers include McBride (MCB), down 2.9% to 98.7p, DS Smith (SMDS), down 2% to 354.7p, Just Eat (JE), down 1.6% to 767.2p and Marks & Spencer (MKS), down 1.5% to 275.1p.
Yesterday in the City
The FTSE 100 edged up a further 0.2% yesterday to end trading at 7,196pts.
The departure of the head of the Food and Drug Administration's head in the US provided some welcome respite for UK tobacco stocks. The FDA has been cracking down on vaping and menthol products, but the departure of commissioner Scott Gottlieb saw British American Tobacco (BATS) shares jump 5.2% back to 3,050p while Imperial Brands (IMB) ended the day up 1.4% to 2,612.5p.
Other risers yesterday included McColl's (MCLS), which continued its recovery rising a further 5.3% to 75p, DS Smith (SMDS), up 3.7% to 362.1p, C&C Group (CCR), up 2,6% to €3.17, AG Barr (BAG), up 1.9% to 795p, Total Produce (TOT), up 1.6% to 161p ahead of its annual results this morning and Nichols (NICL), up 1.5% to 1,525p.
Just Eat (JE), which issued its annual results yesterday ended the day flat at 780p after dipping in morning trading.
Fallers yesterday included Bakkavor (BAKK), down 3.5% to 137.8p, Dairy Crest (DCG), down 2.3% to 628p, PZ Cussons (PZC), down 2.3% to 193.5p, Hilton Food Group (HFG), down 1.9% to 910p and Premier Foods (PFD), down 1.9% to 38p.