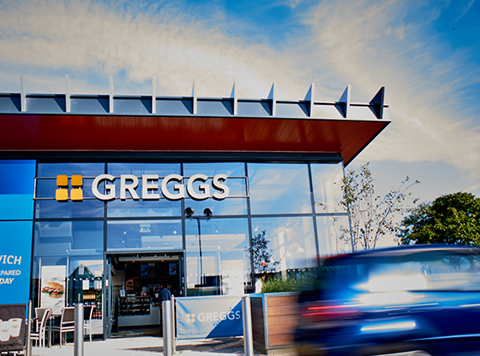 Top story
Greggs (GRG) has posted a 58% rise in interim pre-tax profit excluding property gains and exceptional charges up to £40.6m on sales up 14.7% to £546m.
Company-managed shops' like-for-like sales climbed 10.5% in the six months to 29 June.
Underlying pre-tax profit margin rose to 7.5% in the period from 5.4%, driven by strong sales growth and operational cost control. Pre-tax profit including all property profits and exceptional charges was up to £36.7m from £24.1m last year.
The food-to-go group said it had continued to make strategic progress with its programmes of investment in infrastructure to support future growth and in developing the products and channels to market that would help achieve its ambition to be the customers' favourite for food-on-the-go.
Greggs opened 54 new shops in the first half, including 16 franchised outlets, and closed 23 shops, giving a total of 1,984 shops, of which 275 are franchised as of 29 June.
The emphasis on opening shops close to where customers were working or travelling was contributing to the ongoing rebalancing of the Greggs estate, it said.
Thirty-eight per cent of its shops now served catchments wholly outside of traditional shopping locations and it anticipated that this proportion would continue to grow to more than 50% in the longer term.
It had just opened its fourth drive-through location in Newcastle upon Tyne and it continued to work with partners to bring Greggs to other travel catchments such as railway stations, road and motorway services, and airports.
Greggs said its pipeline of new shop opportunities remained strong and it expected around 100 net openings in the year as a whole, of which about forty were anticipated to be with franchise partners.
The company said it had extended its click & collect pilot to seven cities and it had extended its test of delivery options to include Just Eat alongside its existing Deliveroo partnership.
The launch of the "now famous" vegan-friendly sausage roll took sales momentum "to another level", with initial demand significantly outstripping the group's expectations.
The product remained extremely popular with customers and was now one of Greggs' top sellers, demonstrating the demand for greater dietary choice in food-on-the-go, it said.
Growth in customer visits had driven strong sales across Greggs' traditional savoury products and sales of its traditional sweet products continued to benefit from the improved quality delivered by its investment in manufacturing centres of excellence.
Breakfast-on-the-go remained the fastest-growing element of its trading day, with sales of its freshly-ground Fairtrade coffee now placing it third in the UK out-of-home coffee market. The breakfast food offer was growing with fresh porridge and hot breakfast boxes had become available in more shops as it rolled out hot food cabinets.
Roger Whiteside, chief executive, said that with increasing demand for convenient meal solutions, Greggs was continuing to develop its offer for later in the day.
Its focaccia-style pizzas were growing in popularity, supported by its post-4pm pizza deal of a pizza slice and a drink for £2. Hot food options were also being developed with the roll-out of hot food cabinets supporting growing sales of new lines alongside our existing hot sandwich range. Trials of extended late opening hours would follow in the autumn.
Whiteside said: "Greggs has delivered an exceptional first half performance, building on the strong finish to 2018.
"We have continued to make strategic progress with our programmes of investment in infrastructure to support future growth and in developing the products and channels to market that will help achieve our ambition to be the customers' favourite for food-on-the-go.
"Given the strength of our year to date and the outlook, we have decided to increase investment in strategic initiatives in the second half of the year to help to deliver an even stronger customer proposition and further growth in the years ahead. Our expectations for underlying profits for the year as a whole remain unchanged."
Morning update
On the markets this morning, the FTSE 100 climbed 0.3% in early trading to 7,706.6pts.
Greencore Group (GNC) has reported a "solid" performance in what it said was a challenging quarter for the UK grocery sector.
It said in its third-quarter trading statement that reported revenue from continuing operations came in at £365m down 2.9% on the previous year.
This primarily reflected the impact of site disposals and business exits – Hull, Evercreech, and Kiveton ready meals. Revenue increased by 0.8% in the quarter on a pro forma basis.
The group's reported revenue from continuing operations for the year to date came in at just shy of £1.1bn – a decrease of 4% on a reported basis. On a pro forma basis, revenue increased by 3.8%.
Reported revenue in the group's food to go categories rose 0.6% both on a pro forma and reported basis to £250.6m in the third quarter, all driven by underlying product revenue growth.
This level of growth reflected weak market conditions with unseasonal weather, a varied trading performance across the customer portfolio, set against a strong comparative period, it said.
Year-to-date, reported revenue in food to go categories came in at £697.8m, an increase of 4.6% on both a pro forma and reported basis.
Reported revenue in the group's other convenience food categories totalled £114.3m in Q3, an increase of 1.4% on a pro forma basis, and a 9.8% reduction on a reported basis again reflecting the impact of site disposals and business exits.
Year to date, reported revenue was £368.6m, an increase of 2.3% on a pro forma basis and a 16.9% reduction as reported. Underlying free cash generation for the Group in Q3 was in line with expectations.
Greencore said it was performing well against its strategic and financial objectives, despite the soft underlying revenue growth in the third quarter.
The final quarter represented a seasonally important period for Greencore and the group continues to anticipate growth in adjusted operating profit for the full year supported by underlying revenue growth and a good operational performance.
Reckitt Benckiser (RB) is optimistic about a stronger second half to the year after Rakesh Kapoor, chief executive, said like-for-like performance in the first half was "somewhat below our expectations" at just 1%.
Half-year net revenue climbed 2% at actual exchange rates to £6.2bn in the first half while adjusted net income climbed 4% to just over £1bn at actual exchange rates. Adjusted operating profit climbed 2% on the same basis to £1.5bn.
Hygiene Home delivered another quarter of consistent top line growth but progress in Health in quarter two was disappointing, he said.
"We have now been operating in RB 2.0 for 18 months and have made some important achievements. Hygiene Home has been unleashed and is delivering consistently. But on our journey to be a world leader in consumer health, we have work to do to deliver consistent financial performance."
He said the company had strong plans are in place to restore growth, including an exciting innovation pipeline such as Mucinex Night Relief and Enfa Grass Fed. "We are further stepping up our investment in BEI and medical marketing to drive our growth.
"We therefore expect H2 to be back to our more normal level of growth. Our work to create two structurally independent business units continues to progress well and remains on track for completion around mid-2020."
Early risers include PZ Cussons (PZC), up 2.2% at 222.4p, Diageo (DGE), up 0.9% at 3,442p, B&M European Value Retail (BME), up 0.9% at 379.2p, Ocado Group (OCDO), up 0.7% at 1,267.2p and Just Eat (JE), inched up 0.7% at 785.2p following yesterday's meteoric stock market performance.
Fallers so far today include Greencore Group (GNC), down 6.2p to 211p following this morning's third-quarter trading statement, Reckitt Benckiser Group (RB), fell 4.8% to 6,349p following this morning's interims, Fevertree Drinks (FEVR) slipped 3.1% to 2,396p and McColl's Retail Group, (MCLS), slipped 2.1% to 65.9pp. Greggs (GRG) fell 2.9% after reporting interims this morning.
Yesterday in the City
The FTSE 100 closed up yesterday a heady 1.8% to 7,686.61pts, spurred by a weaker pound and merger and acquisition activity.
FTSE 100 fallers included Premier Foods (PFD), off 2.1% ad 36.2p, DS Smith (SMDS), down 1.7% at 369.2p, Majestic WINE (WINE), down 1.2% at 249p and B&M European Value Retail SA (BME), down 1.2% at 376p.
Stocks on the up included Just East (JE) which burst forward 22.7% at 780p amid speculation that other rivals could gate-crash talks for the group.
Cranswick (CWK), closed up a heavy 8% at 2,780p following its £43.5m deal to buy Katsouris Brothers, the London-based Mediterranean food producer, and the announcement of first-quarter financial results.
Nichols (NICL) fizzed up 5.3% at 1,790p, McBride (MCB), rose 3.9% to 67.5p and Reckitt Benckiser Group (RB) closed up 3% at 6,670p ahead of today's interims.